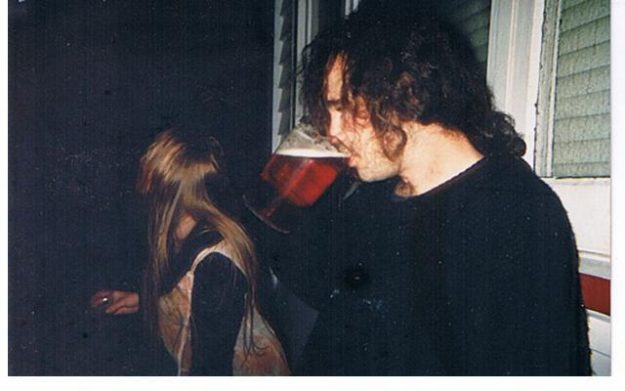 Bruce drinking Waikato Draught and Joy (My future wife) at a friends 21st.
About 1995
Below is my hastily written goodbye to my long time friend Bruce Christopher Davies, who took his own life 4-3-18.
Bruce was a fully fledged Hard-man Engineering Rebel Bogan… He had a colorful existence… Cars, Bikes, Beer, Woman, and Song.
Hard work and Hard Rock.
In the end it all took its toll…
He will be missed by his Mates, and Family.
This Blog post is to pay Tribute to this Awesome dude… my fabulous friend with a Big Heart.. loved by many.. and for those who never got to pay their respects to Bruce with his unexpected passing.
Please leave comments and photos below.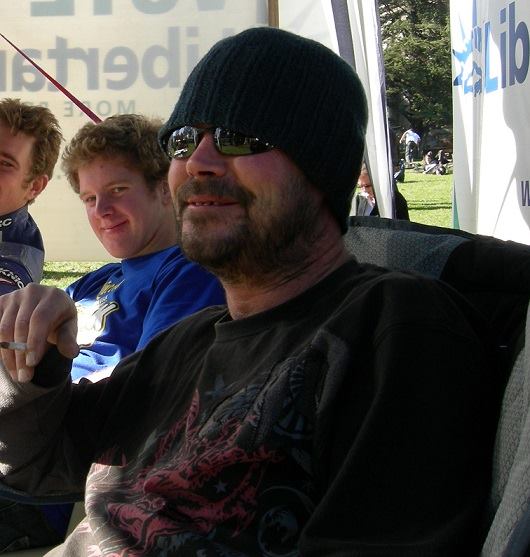 Bruce and friends at Hamilton Jay day about 2007.
***************************************
My tale of Bruce Davies.
By Tim Wikiriwhi
Spoken at his Funeral.(Edited)
9-3-18
This story of Bruce Davies … My Story…starts at New Haven engineering, Judea Tauranga in 1987, when I had just moved down from west Auckland a week after finishing my Engineering apprenticeship…
I had a small Bedford housebus that I drove, and parked up at my mums place in Gate pa.
I was 18, and I wanted to live in Tauranga as from visiting my mother who was living there… the Bay of Plenty appeared to be a paradise!
Plenty of Hot friendly girls, sunshine and beaches!
Just one great big Holiday park!
I was not in Tauranga long before I started looking for work as an engineer.
Being an Auckland Westy, when I met the Bay of Plenty Bogan Bruce Davies who was working at New Haven Structural Engineers … we were a cultural perfect fit… though I was a Christian… we had the same Westy Bogan values … and we hit it off immediately.
Not only that… we had had similar upbringings… not known our Fathers… being raised in a single parent house by our mothers, etc
New Haven was a Structural Fabrication Workshop and We were Building Tanks and structures for the Waihi Goldmine.
Bruce was a great engineer… a great welder and fabricator… a hard man.
Heavy Fabrication Engineering is a real mans job… Not afraid to get dirty… We took pride in being Hard.
He was also a great farmer.
As a New Guy… sitting in the New Haven smoko room full of workers and the Boss, Bruce loudly asks me… "Do you smoke Pot?"
I was shocked!
As a 19 year old Westy… OF Course I smoked pot! Yet we Westies were *secret squirrel* about such things at our Jobs… around 'Nomies'/ trendies/etc… so I was like trying to wisper… bro keep it down!
Yet it was only a matter of days before I was smoking weed with Bruce outside his mums place in my bus… and drinking Waikato Draught Beer… two things that would become synonymous with our friendship that would last 30 years.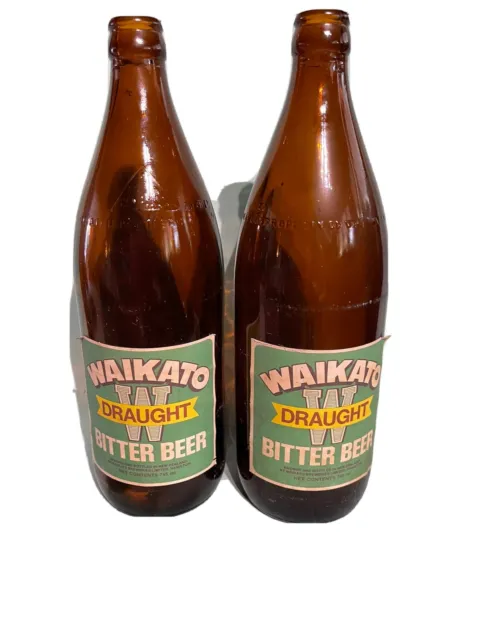 We would under age Drink Waikato ( Legal drinking age was 20 back then) and play pool at the Otumotai Trust hotel..with Bruce's mates Al, Mark, and Guy… the five of us looked like black peas from the same pod… all would wear black Levis, black tee shirts, black jerseys, black beanies, and all were about the same height and all had shaggy long un-kept hair… and we were suspicious of anyone who did not look like us!
One day I rolled into the Trust Hotel car park in my bus and Bruce said to the boys… here comes 'the blowfly'… referring to my green and black bus… and after that my nickname was Blowfly!
Thanks mate… it was a classic nickname… one that makes you cringe.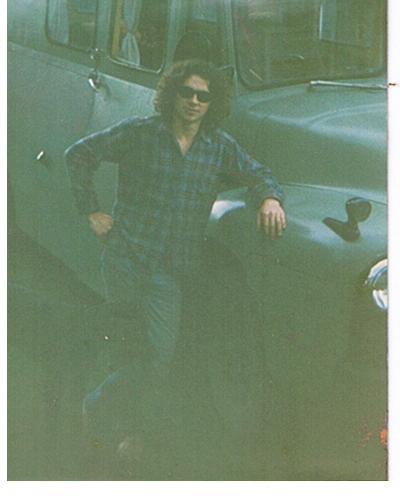 Me and my Bus.
1987.
I had my 21st party at Bruce's and Nicky's pad in Thompsons track Katikati… in a farmhouse where he was milking and farming.
I then moved back to Auckland for a few years with a pretty Tauranga Girl (Carol) and we soon had a Daughter (Melissa) … yet having got used to the Tauranga pace … the Auckland Rat race sucked and so we moved back to Tauranga… And I was soon working with Brucie again in Structural Engineering… for a company called Metal Trend… this is when my Son Jamie was born.
(Carol and I would separate a few years later… yet we are friends now)
Bruce had an affinity with cats.
He was a cool Cat! and he certainly had nine lives. He wreaked at least 50% of the vehicles he ever owned…
Bruce had his orange ginger cat 'Russell' who was Bruce's best mate… "the greatest cat in the world" according to Bruce. He nick named Russell 'Patrol leader'… Russell was always on patrol… and they spent many years together… even after Bruces great love Nicky left him for his [other] best friend.
Bruce and Cats went together.
Bruce found Joy (My Wife), Mine, and our sons grey cat Floyd as a tiny Kitten in the gutter outside the Te Rapa Pub Hamilton…One dark winter rainy nite… and brought him home to our place as at the time he was staying with us after going through another tuff break up with another lady…
And Bruce as many of you probably already know… had his last cat named 'Tuesday' with him in the car… and they passed way together. Tuseday is buried on site in the upper reaches of the Cormandal peninsula.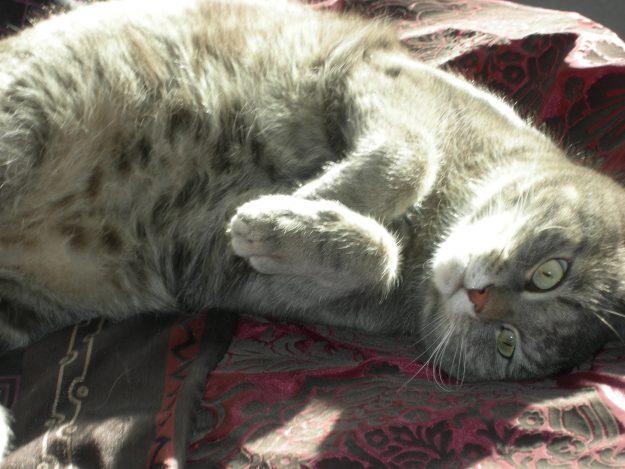 Floyd My Cat… who owes his life to Bruce.
Bruce was a romantic soul, yet like so many of us everytime he fell in love… it was followed by a painful break up… and these were the low points in his life.
I remember how happy Bruce was when he and Amanda had Michael… Bruce was a proud Father and it was devastating when He had a messy break up with Amanda, and it was virtually impossible for Bruce to maintain any contact with Michael… too painful to deal with the situation, and when Amanda moved to Australia that definitely was a barrier too far for Bruce, and Like me he would have been hoping that at some time when Mike had grown up… that they would make contact again … sadly Bruce took a heavy downturn… and now this will never happen.
Michael… You have my sincere apologies on Bruces behalf… he was a great Guy… yet he was a person who… in the end…did not like or function well according to the rules conservative society demands…
I hope you and I get a chance to talk about your old man so you get to know him better.
As the decades past we had countless good times … partying… smoking weed… and hanging out.
I got my first tattoos with Bruce at his house on a Kiwifruit orchard up Omanawa road (lower Kaimai ranges) … from a flatmate who was planning to become a tattoo artist and needed some suckers to practice on!
Bruce got a Ledzeplin wizard holding up a lantern on his arm, and the big Scorpion on his back and shoulder… Bruce was a Scorpio.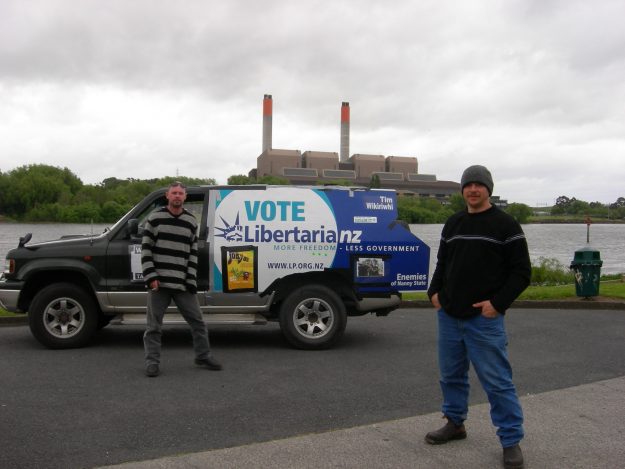 Now though some folk will not approve of this yet… as I have already mentioned smoking weed was a major recreational past time for Bruce and I.
I got busted by the police *twice* with Bruce over the years.
Both these times are quite amusing to look back on, yet I would become a staunch Libertarian activist for the decriminalisation of Cannabis… and Bruce being a Mate would help me with setting up Libertarianz party stands at Jay days etc… he would take the pics of me speaking, etc… and some of my best quality photos I have of Bruce are Libertarian activism pics… Both of us were now living in Hamilton Waikato (District).
The war on drugs is very oppressive for fringe-dwellers like Bruce… and myself… people who don't want to conform to the sheepish standards that pass as 'normal/ conservative'…
We Libertarians despise how oppressive the 'Mob rule' of our Nanny state democracy is, and defiantly 'Live like its legal'… and because of righteous activism and world trends… cannabis will soon be legal here in New Zealand… as it has become in many countries around the world.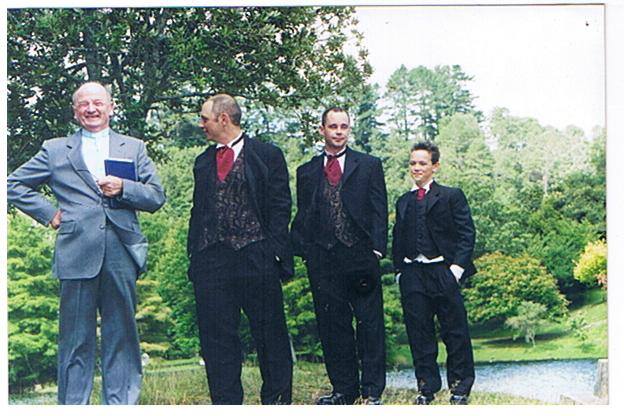 In 2002 Bruce would be the Best man at Joy and my wedding at Mc Clarens falls in the Kaimai hills above Tauranga.
It was an honor to have him as my best man.
Though I have been fortunate to have had more than one 'Best mate'… Bruce earned the right to stand beside me on my most important day, in front of most of my other friends and family.
He rose to the occasion and was a great support…. The after party being the best party of my life… and he was a big part of that… we used his stereo for the Soundz, and he was a big help cleaning up in the days that followed.
About twenty years ago Bruce and I had another painful shock.
Bruces life long friend Mark Crosby… one of our tight Posse… killed himself in a car in a reserve on the Matamata side of the Kaimais.
I got the call from Bruce about it…. And every since then I had a fear… a premonition… that Bruce was harbouring thoughts that this was a legitimate option he had for himself.
And this has proved to be the case.
I must ask you all not to follow Bruces example!
It was a very Bad idea… Death will come calling for us soon enough and when someone takes their life… they take away any chance for Providence to shine again in their lives… The Sun will rise again if only you endure… Hold on and have faith… Don't let the world break your spirit!
Find something that fills your life with value and meaning… I have my Christian faith…
Bruce had at least another 20 years of quality life… so many good things he will now miss… and because of what he did..we… the ones that loved him and appreciated him… will miss out too.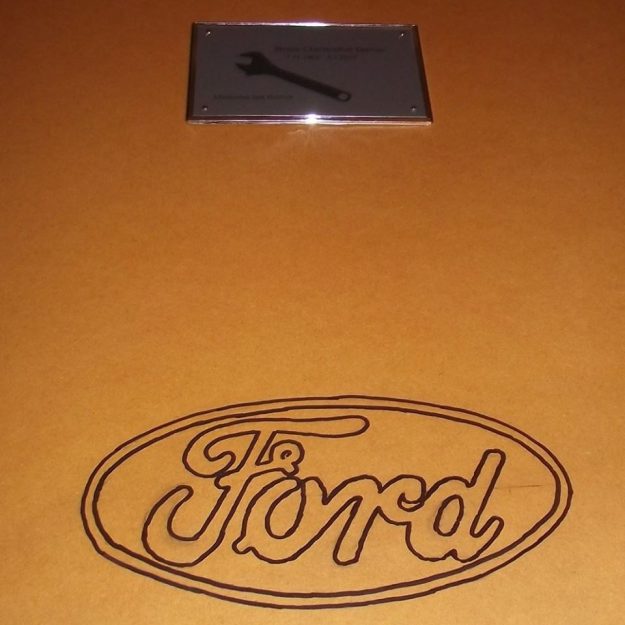 Now I am going to close this on a sad note.
About the time that Joy and I were expecting our son Roman, Bruce and I had a falling out… and I decided to stop visiting him and focus on my new responsibility as a Dad.
I was hoping Bruce would turn up one day and we would talk things through and get things settled and we would carry on as normal… I lost contact with him when he moved… yet always hoping… sadly the years quickly ticked by… and Bruce never showed.
I am very sad that we never managed to get it sorted.
I am angry that he chose to pass away without trying….
And I carry Guilt that I did not act upon my thoughts several years ago to track him down and sort it out.
I am sorry my friend for not being there when you needed me… not being there to tell you to get your shit together like I did many times before.
I hope you forgive me.
I hope you are in a better place… maybe with Mark, and Pat, and your Mum.
Good bye Mate… and thanks for everything.
Tim Wikiriwhi
9-3-18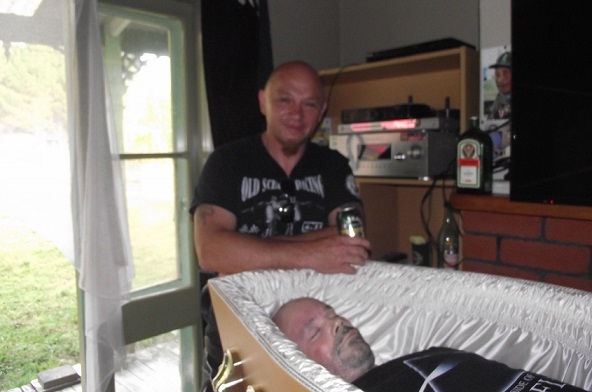 With consent of Bruce's family , We… his friends took Bruce the day before his funeral up into the hills overlooking Raglan, and gave him his 'last rites' Bogan style.
We Celebrated his life…. we had our last Beers with him, our last games of Pool… and spent all night laughing and telling hard case yarns about our Bro.
Girls turned up and wept over his coffin, and we transported him in style in a Holden Panel wagon with Triumph Bonneville Escort.
He was dressed in a Black Beanie, Shades, Pink Floyd Dark side of the Moon tee shirt, Blue Jeans and Black Army Boots.
We played his friend Paul Goughs' Original 'K9 Convention' song… absolutely Unique… Rockin… and a track Bruce loved.
I know a lot of people will be bummed out they did not get the chance to see him off… things happened so quickly.
We hope all his mates approve of our send off… It was done in the best Bruce style.
Thanks to everyone who made it to pay their respects, and help make it worthy.
Special thanks to Brucies People in the Waikato.
And there will be a commemoration for Bruce in one years time somewhere appropriate with the idea of perhaps spreading his ashes, and this will be another opportunity for Bruce's friends to pay their respects.
Maybe McClarens falls… first weekend in March… as Bruce was a part of The Kaimai community and so many of us had great times with Bruce in the Hills there.
Please check this post for updates.
Heaps more Photos of Bruce's Celebration and Funeral go to my Facebook page … could not fit them into this post Here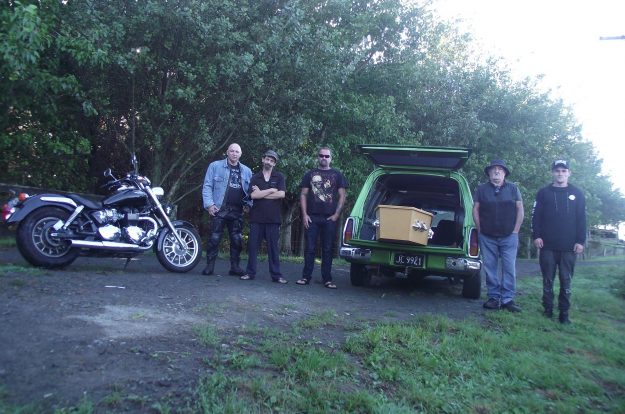 More from Tim… (and Richard)
PINK FLOYD- DARK SIDE OF THE MOON… MUST WATCH VIDEO. HDPINKFLOYD.
MOTHER SHOULD I TRUST THE GOVERNMENT?
SEE YOU ON THE DARK SIDE OF THE MOON… RIP STORM THORGERSON.
JESUS, JESUS, WHAT'S IT ALL ABOUT?
THE ROCK FM 2000, 2020. BANDS AND BEST SONG LISTS. CHEERS TO CARLSBERG BEER!