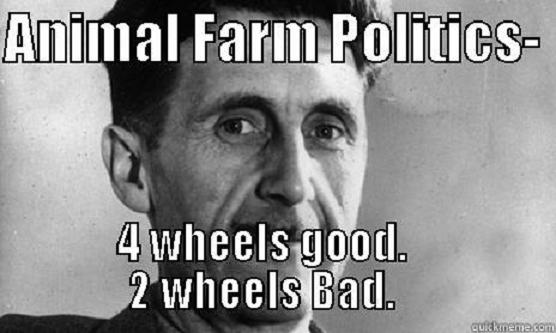 I had to make up this Meme having herd that National is dropping the ACC levy of Cars registrations, which is always a positive thing.
Yet still they have not moved an iota on Motorcycle Levies… which are exorbitant.
This situation smacks of favouritism, and thus is typical Socialism in action.
The rationale appears to be that 'Cars are Righteous, but Motorbikes are evil'.
Never mind the fact that a great % of Motor cycle injuries are caused by Cars, Trucks, tractors, and all the Shit they spread over the roads, and all the pot holes they create, etc, etc.
Frigging 4 wheeled freaks whom pull out of intersections without looking properly.
Bikers flying off the road avoiding Olde Muppets whom who are a danger to themselves and everyone else.
If I ever get that old and stupid… please take my keys off me!
I dont wana kill a young Dad on his day off.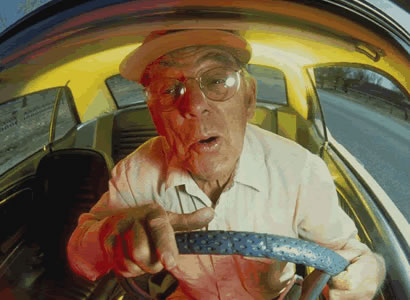 Bikers are a victim minority of Populist delusions and prejudices, and are accordingly being raped by the Government.
National is obviously making policy with the up and coming election in mind rather than any concern for justice.
This Registration fee reduction is in really a ruse, because they are still borrowing 75 million per week…. which we will still have to pay back, plus the growing interest of well in access of 1 billion per year on this ever expanding government debt.
So please Ye Car fans… dont start clapping for National… they are playing yall like chumps.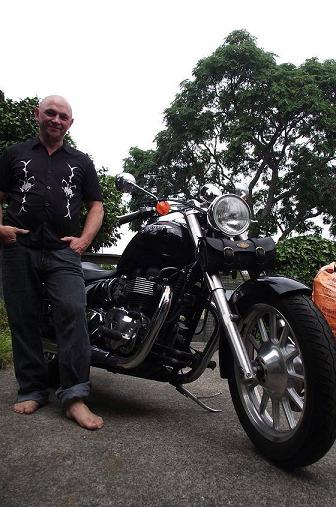 Because on average I only get out on my bike about once a month, with insurance and registration, it costs me $100.00 per ride before I even turn the Key… before Gas, Tyres, Pies, Etc.
I pay over $50.00 per ride just for road rego!
It's a Bloody Rip off!
I dont mind the Insurance so much, but greatly detest ACC, whom also take pleasure in raping me for the crime of being a self-employed Engineer.
I would much rather have all my taxes and Levies refunded which the Government extorts from me under the pretence of supplying me 'a healthcare package', and buy Private health insurance instead.
And true to Realecconomics… by driving up the cost of Bike registrations, the Rapist government have inadvertently encouraged people not to bother registering their bikes… and so the Government is actually collecting Less revenues!
They have created more outlaw bikers.
More bikers now choose to run the risk of riding unregistered bikes.
Bikers whom used to register more than one bike, instead keep some on hold.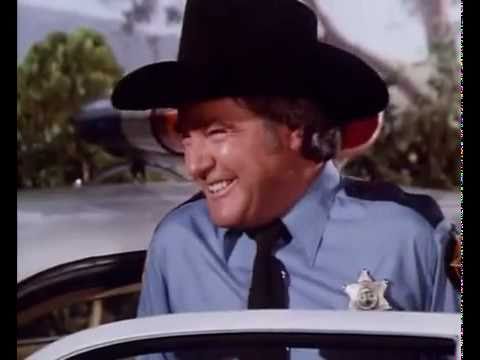 Another way Bikers pay for the ignorance of politician Law makers is regarding the Speed limit.
Bikers are paying for naïve heavy handedness in blood.
I believe Motor cycles ought to be allowed to do 120kph on highways, because I say this would reduce many Cycle accidents which are caused by ridiculous speed restrictions and 'Hazard County police' who 'write their own Rules' and enforce a pitiful 4kph over speed margin… claiming this Hard line reduces the Road Toll.
Well it doesn't!
This gimmick has been proven false.
The Road toll is not improved by this crap… all that happens is that the Cops collect more Speed Taxes.
Such patently absurd targets as 'Zero deaths' on holidays just goes to show what sort of Bullshit excuses are used to justify Raping us on our days off!
The only way you can expect zero Deaths is by having zero people using the roads!
On Labour weekend 2013 there was one death, the lowest number on record,and the police were quick to take the credit for this as being vindication for their Heavy handedness… despite a myriad of other factors being involved… esp less people than usual travelling, yet having employed this tactic over many more breaks, it has proven that this low result was an anomaly and that enforcing a lower speed limit was not a decisive strategy.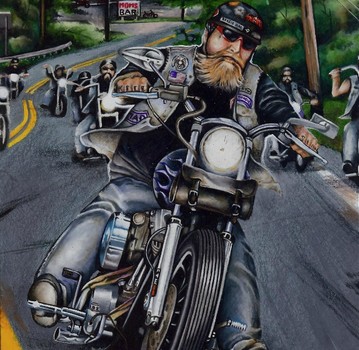 One reason I believe that such simplistic rational fails is because the Speed restrictions on Highways… and the Legions of Ticket issuers just waiting to pounce means that Bikers now avoid these Good roads where it is Safe to travel at speed, and instead Ride the Back roads which are inevitably poory maintained, poorly signed, and not designed for speed.
Plus they encounter far more rural hazards… Cattle, Tractors, Cyclists, etc.
And it is on these Back roads that Bikers are doing 120kph+.
Riding slow can be dangerous too because it is so friggin boring that you are in danger of falling asleep.
Some people may mock me for saying this …. but it's true.
It's like when you are at work, and sit down for afternoon smoko … you start to nod off and it's hard to find the energy to Finnish off that last hours of your shift.
You become complacent and stop thinking… too relaxed… not focused.
This happens when you are not fully engaged in your riding… bored… in the afternoons and evenings.
Yet when you can get some speed on, your blood flows through your veins and your focus is sharper.
Thus I argue that these are the sort of reasons that Lower speed limits dont make the road a safer place, and these Laws actually work to make riding less safe.
The Highways are far safer to travel on big Cruisers, and as such I argue a more tolerant speed limit would greatly improve Riding Stats.
Everyone knows Bikers are already doing these speeds anyway.
Tim Wikiriwhi.