Not only is the Treaty separatist movement deceitful and immoral.. a giant scam, it is also the chief reason Maori have such horrible social statistics because it poisons the soul and teaches them to blame others for their own choices and misery.
Today we have Mongrel Mob Murderers appealing their sentences 'on the basis that they are Maori'…. this is supposed to define them *as helpless victims of greater injustices*.
And this has become the Official line…. This is what they are teaching your kiddies at school.
What is their solution?
To Teach Boy's they are 'Warriors'…. that 'the system' is some foreign invaders tyranny…. that life was wonderful here before the white man turned up. etc as if that's really going to help them in their relationships…. and help them to succeed in society!
It teaches them to deny 1/2 of their owe heritage!…. because they are all part- Pakeha too!
As a Maori among Maori, it has been a lonely, thankless and even dangerous path for me to speak out these truths for the sake of opening the Eyes of the Maori people that they have been deceived by the Racist radicals in their midst who are teaching them to become horrible Racist Haters.
When the truth challenges Political Advantage and calls for an end to the blame game, and for Self-responsibly instead …. it is a remedy that is not received with gratitude.
Maori have identified themselves with the disease… and it frightens them to abandon such a world view…. yet it is my sincere belief that it is the average Maori individual who has the most to gain from ending Waitangi apartheid and establishing racial equality before the Law.
Under Equality Maori can and will prosper and will be free to revel in their own culture… no longer political footballs….. this is my dream.
Tim Wikiriwhi
Christian Libertarian Independent.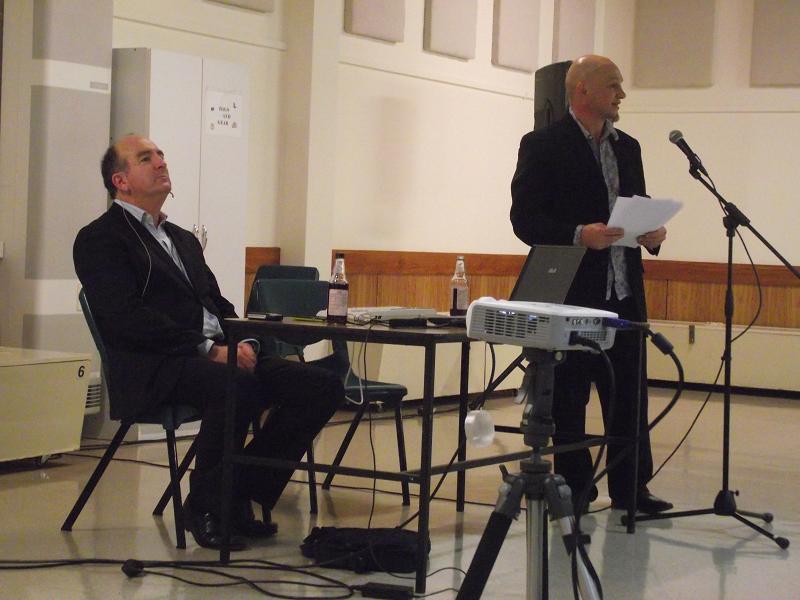 Tim Wikiriwhi and John Ansell speaking at the Hamilton 'Treatygate' meeting in 2013.
Read more about Waitangi Separatism from Tim Wikiriwhi….
Tim Wikiriwhi's Submission to the New Zealand Government's Constitutional Review. 2013
Mt Everest is for Wimps! Lets Conquer Apartheid Government in New Zealand! A strategy.
TREATYGATE Hamilton…introducing John Ansell
The Shame of Maori Radicalism. Hate and Violence.
Why a new Constitution for New Zealand must protect the Individual from Mobocracy.
Paul Holmes on Waitangi day Stench.
State of Confusion. The Rule of Law vs The Mandate of the Majority. New Zealand's Constitutional Crisis.
Low Lives in High Places. Water and John Key's Racist Alliance
Trojan Horse: The UN Separatist Declaration of Indigenous Rights.
Universal Pride in Washington, Separatist Shame in Wellington.