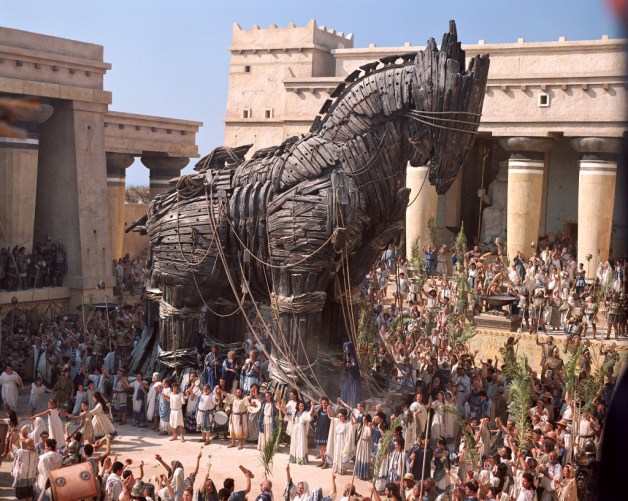 While most Kiwis concern themselves with the state of the Economy, there is another issue of even greater magnitude being foisted up us… the preparations for a New Republican Constitution for New Zealand.
This process is being carried out in stealth, ie there is no public debate going on, but rather a collection of 'Hui' which are dominated by Socialists, Greens, and Racial separatists who have hijacked this project and are setting about to manipulate public opinion into accepting a corrupt constitution which enshrines Racial separatism and pseudo-legitimises totalitarian powers to Parliament.
I am currently attempting to rally a lobby group to oppose this skulduggery and to propose an alternative Constitution based upon Equality before the Law and Limited Government, which includes a Bill of Rights which must be respected by Parliament.
I have so far had no success.
One of my associates, One New Zealand Foundation's Ross Baker shares my alarm that the separatists have Hijacked the process for establishing a New Constitution, and is concerned that the fact that John Key's National Government has accepted the UN Declaration on Indigenous rights means it will be used as leverage by the Separatists to enshrine a separatist Constitution. He is also concerned about the lack of any organised opposition.
We intend to put up a fight!
Yet currently we are so few in number that we fear we have little hope of getting our side of the Debate herd, let alone be successful in halting the ambitions of the Racist Socialists.
Below is an Opinion piece I wrote at the time John 'Quisling' Key endorsed the Racist/ Anti- Enlightenment Document… The UN Declaration of Indigenous Rights. The danger I forewarn is now upon us.
This Declaration is about to be used in the most diabolical way. To enshrine an apartheid constitution.
This can only bring Greater evils and injustices upon us.
It will perpetuate the Extortion Racket that syphons millions of dollars into the hands of vile racists.
It will further entrench Maori in the mentality of victimism and the poverty of Socialist dependence.
I post it here today in the hope of stimulating interest in this 'Mother of all Political struggles' we currently face… To sound the Alarm… The Barbarians are at our gates! Prepare for Battle or be slaughtered, and your children enslaved.
Article/ Opinion piece… Quisling John Key sells out New Zealand to UN Socialist racism.
By Tim Wikiriwhi Libertarian Independent Hamilton West.
Recent dire events lead me to write this article asking how is it possible that earth shattering truths can explode in the face of a so-called educated people without causing so much as a tiny ripple of contemplation their consciences, yet at other times these same nation of scholars are provoked into a lynch mob frenzy at the drop of a hat? Machiavelli would say "tis elementary"… for the Prince skilled in statecraft.
I however conclude no such Diabolical genius is necessary!
*Mass Deception is easily achievable via corrupting the peoples education*… and thus over time manipulate their grip on reality.
* Furthermore I say New Zealand clearly has been so manipulated*… by mediocre liars who have been furnished with just such socialist political engines of condition and have propagated a nation of thoroughly 'educated' Ignorami!
Why am I pouring scorn upon my countrymen?
Let me explain.
Via John Key, New Zealand has just endorsed the UN separatist declaration of Indigenous rights which is contrary to the Treaty of Waitangi and the principles of justice which say our rights must be equal before the Law.
It pains me to think thousands of Kiwis voted for the Quisling John Key and his band of sycophants calling themselves the National Party!
That these Toe rags managed to convince anyone to vote for them is more than a badge of stupidity, it is fast proving to be a fatal error, yet most Kiwi are too 'educated' to grasp what this Quisling has achieved in his short stint at the top Job, and most of those who are 'in the know' belong to a club of shyster lawyers, racists, stooges, and power hungry Politicains now wringing their hands with glee at the thought of how to enrich themselves with filthy lucre…. thanks to the utter imbecile running our country.
I say John Key must rank as one of the worlds greatest two faced idiots in power today along side the President of Iran and Hugo Chavez, and ultimately is just as dangerous…just as disastrous.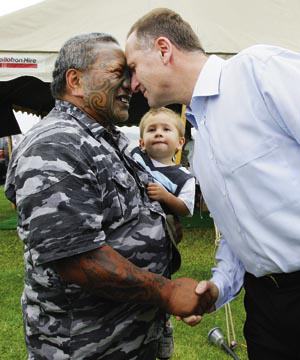 Sitting at my computer, I could not express how grievous has been the collaboration of John Key with the radical racist separatists of the Maori Party, without venting this tirade you are reading.
As a Hamiltonian I wonder where are the voices of protest from our elected representatives Tim Macendoe and David Bennet?
Their silence betrays their complicity!
They have no spine… No independent conscience… They are loyal little minions.
John Key is no Prince yet is Machiavellian enough to time this vile political betrayal now, in the hope that the stupid New Zealanders will have forgotten about his deception at election time.
Not only did he do this without warning the nation, he did it behind the back of his coalition partner Rodney Hide!
This must rank as one of the most fowl deeds of recent NZ politics, right up there with Helen Clarks election fraud regarding Pledge Gate and Winston Peters and the Baubles of Power!
As far as civilisation and progress is concerned this UN document is an Anti- civilisation declaration!
It is the reverse of that great beacon of enlightenment dated 1776 that declared that All men are created equal!
It is a violation of that latter enlightenment treaty of 1840 that guaranteed equal rights for all New Zealanders, and cuts asunder the peoples it ideologically united as one.
I now wonder what National/Maori Spin doctors will weave, to convince the sheeple that the real treaty of Waitangi and the UN declaration of Indigenous rights can be honoured at the same time?
Oh that's right…they have already been 'educated'!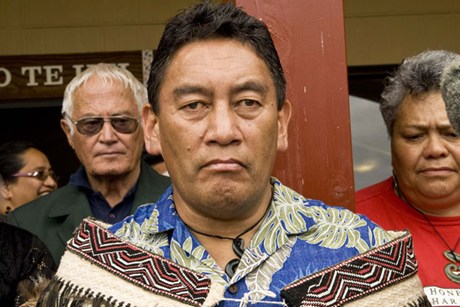 Hypocrisy! Stinking filth!
Where I ask, are journalists reminding the sheeple that Hone Harawera and co rejected all established authority in New Zealand apparently demanding Maori Sovereignty, yet now call for us to surrender our sovereignty to the dictates of foreign powers centralised in the UN?…oh that's right, all our journalists have been 'educated' too!
It has been left to Libertarians and Patriots such as the One New Zealand Foundation to ring out the alarm.
I have been telling New Zealanders for years that contrary to what we are being taught, the real racial troubles of our Nation were not a result of failure to honour the treaty of Waitangi, but emanates from Anti Western Racist Socialist Ideology emanating from the UN.
I have been saying that even without the Treaty of Waitangi we would still be in this racist mess and I have referred to Zimbabwe and Fiji as proof of this, yet my voice and that of a small bunch of individuals has been as one who cries out in the wilderness.
When I said Frank Bainamarama is a hero of racial equality before the Law, desperately fighting the Indigenous racists of his country, The media and the sheeple choose to ignore my arguements, and vilify Bainimarama.
Well ignore me if you will, but don't ignore the Haka of Hone Harawera!
You do so at your Peril and that of your children.
Harawera has already told you to your face that his party intends to wield The UN declaration as a weapon to crush the rights of all non-Maori!
Listen to the Racist Judges such as Sir Edward Taihakurei Durie who have already indicated to Maori Party that they will collaborate with their racist schemes that invoke the UN declaration!
Listen to the media that now tells us that even the treaty grounds themselves will now be claimed as exclusively Maori!
Read the declaration for yourselves and realise it is a green light for an utterly divided country, severed into two different Nations, with two different governments!
That is what self-determination means!
Ask your Zimbabwean neighbours who are now refugees from their motherland!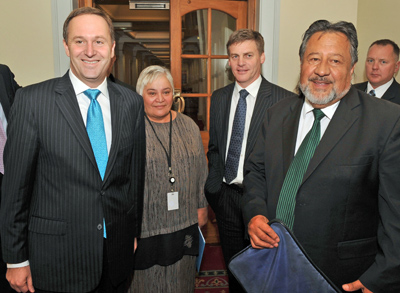 Why has Rodney Hide not withdrawn his support from such treacherous Leadership?
Hide has no credibility! It was obvious from the day John Key hongied Tama Iti what extremes he was prepared to stoop to in his bid for power and when Key ask to support a National/Maori Party coalition, Hide should have refused outright!
He sold himself and his party's claims to oppose Waitangi apartheid for forty pieces of silver…just as Winston Peters did with Helen Clark.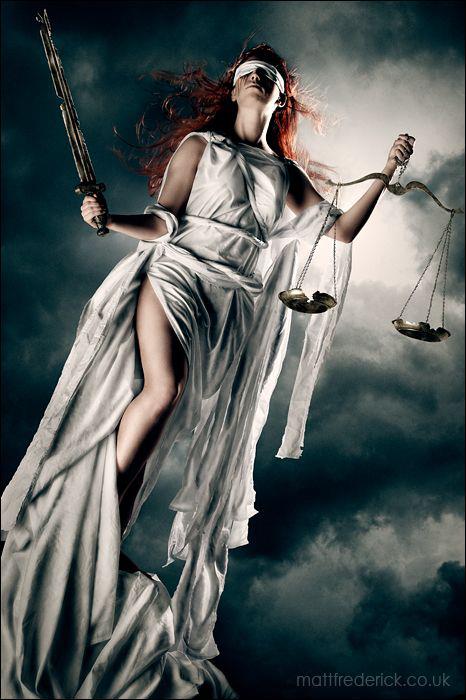 True Justice is Blind to Colour, Culture, Creed, etc.
Whom will save us from this diabolical scheme?
What evils must we now face?
To what lengths must we now strive… how much blood must soon flow to win yet again justice and equality before the Law and restore our land to the tranquillity hard won in the 1860s?
We must throw out National and the Maori Party, and don't let Labour or the Greens back in either as they share the same racist politics as National/Maori.
We must get the Real treaty restored, ie The Littlewood Treaty which is an exact translation of The signed Maori Te Triti o Waitangi and scrap the perverted revised Modern perversions that are being used to justify Maori sovereignty and separatism .
We must abolish the separate electoral roll and Maori seats in Parliament.
We must abolish all race based Laws and state institutions.
We must enshrine a New constitution of equality before the Law!
We must abandon the UN.
We ought to support Frank Bainimarama in his struggle to have racial equality in Fiji.
New Zealanders need to look past all the charlatans of the mainstream parties and look for new representatives who have not sullied themselves with racist politics
Tim Wikiriwhi.
Libertarian Independent
Hamilton West.