The Treaty settlement process of recent years has been nothing short of systematic Treachery.
Not only have the People of New Zealand been forced to accept an apartheid system of Racial preference, they have also be deceived and robbed of Millions upon millions of Dollars.
The scale of this theft is monumental.
And this crime has been perpetrated by a malignant minority of Low lives.
Any notion that the settlement process has been what the Government claims it to be ie 'redressing legitimate grievances' can only be maintained by the most gullible and deluded Moron!
I ask why successions of Labor and National party governments have allowed this business to be orchestrated by blatant racists?
Countless times, the process, and the people involved in this 'grievance industry' have been exposed as outright dishonest and even Criminal!
Both National and Labour (and their minor party minions) have committed the highest form of treason against us by aiding and abetting a Mega Million dollar Extortion racket.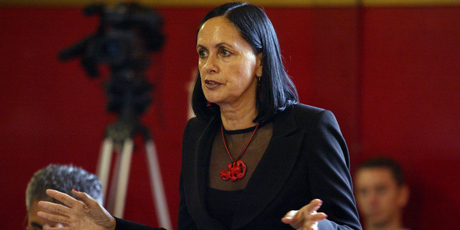 The latest revelations regarding the dishonesty of the Radical Separatist and Treaty Lawyer, Atareta Ponanga ought to send shock waves throughout the country!
You can read about her crimes and extreme bigotry in today's NZ Herald article 'Face of militancy debarred for forgery'.
Former activist turned Lawyer showed no remorse after falsifying Treaty signatures.
Lawyer struck off…
Now here is a Racist Bigot of the highest caliber.
She Hates Pakeha.
As a 'Maori Nationalist' She absolutely Rejects The Treaty of Waitangi, calling Non-Maori New Zealanders Riff Raff, and says they ought to either Leave the country or accept Maori Sovereignty.
How, I ask, was it possible that such a Lawyer whom rejects British sovereignty …though it was accepted by the Maori Chiefs whom signed the treaty… how has she been allowed to handle 35+ Treaty claims, involving *'Much of the North Island'*???!!!!
Pause and contemplate the travesty that fact represents!
Knowing that these grievances and Treaty claims which affect 'much of the North Island' have been fabricated by such a Demonic personality, possessed of militant racist hatred, Now a convicted Fraudster, whom is Hell bent on alienating an entire country, and disenfranchising Millions of Kiwi Citizens ought to provoke a National outrage!
How can the govenment maintain it's claim that the treaty settlement process is bona fide?
We, the people of New Zealand of all races have allowed ourselves to be taken as fools, reduced to second class subjects, and ripped off on a gigantic scale, via a massive fraud that does nothing less than falsify the history of our country!
Satan Himself must be impressed!
The whole business stinks to High Heaven!
It was because of the falsification of New Zealand history for the political ambitions of extorting loot via the settlement process that Dr John Robinson wrote his book 'The Corruption of New Zealand Democracy'
The exploits of this vile racist are exactly the sort of fraud I was talking about when asked by TV 1 presenter Shane Taurima my opinion of the treaty settlement process as a participant in 'The Great Waitangi debate 'Is The treaty holding Back New Zealand?' TV1 Feb 2010. I said it was a complete Farce!
This is exactly the sort of lies and deception which provoked the late Stuart Scott to write his two books 'The Travesty of Waitangi', and 'Travesty after travesty'
The travesty of the whole process provoked the formation of The lobby group The One New Zealand Foundation, with Ross Baker writing his Books 'From Treaty to Conspiracy', and his latest publication
'New Zealand in Crisis'.
*The government is not even using the real treaty!*
They use a modern perversion re-written to justify the establishment of apartheid Law and government.
The English draft which gives us the correct interpretation of Te Tiriti o Waitangi has been found, yet is being ignored because it exposes all the lies regarding The Treaty as being 'a partnership'.
And now these same shysters are setting about to write a New Constitution for New Zealand. One which will entrench the Waitangi Appartheid system they have created.
We must stop them!
I must ask you this.
Will you merely shrug your shoulders in apathy… pretending everything is ok?
Are you going to allow yourselves to be so utterly robbed and deceived without protest?
If so I call you Cowards!
If so I say you have a Slave mentality… you are unfit to call yourselves a free and enlightened people!
Rise Up!
Stir up a whirlwind of Protest!
Contact your Local Political Party representatives and MPs, and express your indignation! Tell them you know they have defrauded you.
Tell them they will never get another vote from you unless they act to put an end to Waitangi apartheid!
Tell them you demand the fraudulent and immoral Waitangi grievance industry to be halted forthwith.
Tell them you will tolerate No more lies… no more Extortion!
Demand Racial equality before the Law!
Demand an end to the Separate electoral rolls and Racist seats!
We Need a Constitution of Equality before the Law and Limited Government.
It is time to get up off the couch and stand with those of us whom have had a guts full of this Racist scam and are fighting to put an end to it.
Contact me.
twikiriwhi@yahoo.co.nz
Tim Wikiriwhi
Libertarian Independent.
Hamilton West.