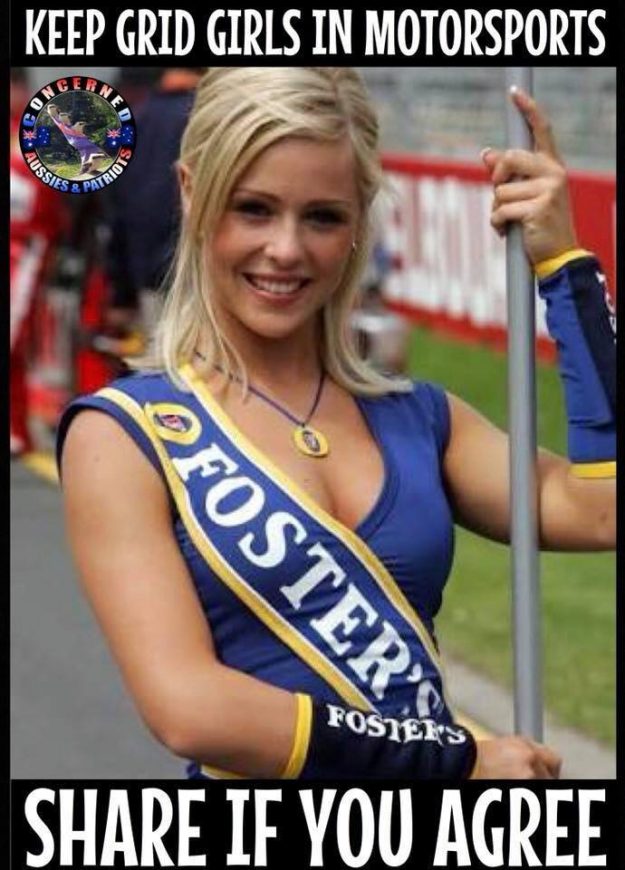 By now you are probably aware about how Formula 1 racing has arbitrarily decided to cut the jobs of all the beautiful Grid Girls that have added Glamour to the events and gone a long way to spreading some of the wealth and prestige into the feminine demographic out of a Male dominated industry. (sport)
Just think about all the hypocrisy involved in that these woman all got the sack for doing nothing wrong!
If this had been *any other* industry other than the beauty industry, there would have been a humingus moral outrage!
Yet because this happened to *This demographic* all the wowzers applaud it…. Shamefully pandering to whacko neo-feminism that is sweeping the globe like an influenza of the mind.
Neo-feminism is *Not* like 'classical feminism'…. this liberalist craze is not about equality for woman but hatred of men and persecution of Beautiful woman out of envy.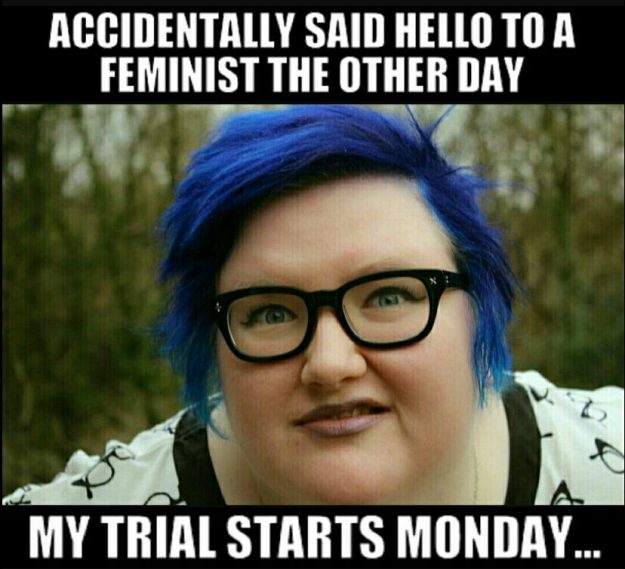 There has been a lot of heated argument on social network over this, The media cashing in on the sensation, with many men like myself spitting tacks that the Neo-feminists have yet again been successful in wreaking something we enjoy, followed by the lame and hypocritical responses of Emasculated liberal men who hate themselves, and all the Nannas want to turn the whole world into a safe space for the delicate.
They blatantly deny that this is Rabid Political correctness run amok … they emphatically state its not another raid by 'The Fun Police' …. On Stuff….as if such fraudulent denials can somehow hide the truth about what is going on!
My reply was … " Ummm it *is PC gone mad*, and it is the Fun Police's fault, and sadly Freedom is loosing the war against the hypocrites.
Neo-feminism hates beautiful woman… everybody know this."
Here some typical dialogue that I have been involved with… (I have saved them here because there is every chance that the facebook police will delete my arguments and throw me in Facebook jail for daring to have a contrary view to that of Zukkerburger and his Pinko minions. Facebook has become one of the worst engines of Propaganda for the Liberal agenda!)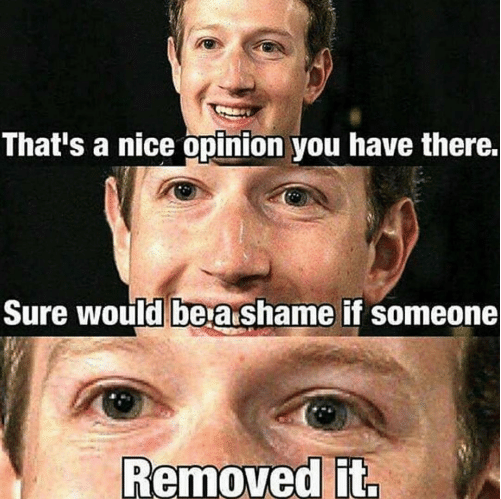 Nanna apologist 1: "I've had to listen to too many gross comments from men at these events that makes my daughters and I feel uncomfortable and unsafe. When I was younger I got fully harassed at a speedway race when the promo girls came out."
Tim Wikiriwhi: "Well you have to harden up and prepare your daughters for a hell of a lot more than guys talking about hot woman if they are going to survive in this world… and respect the freedom of others… because you dont have the right to think of such places as Kindy garden.
And that is the problem with Liberals trying to turn the whole world into a 'safe space' for Babies!
You dont allow any space for Men to be Men… and you think we have to all behave like we live in a giant kindy garden… sorry thats tyranny."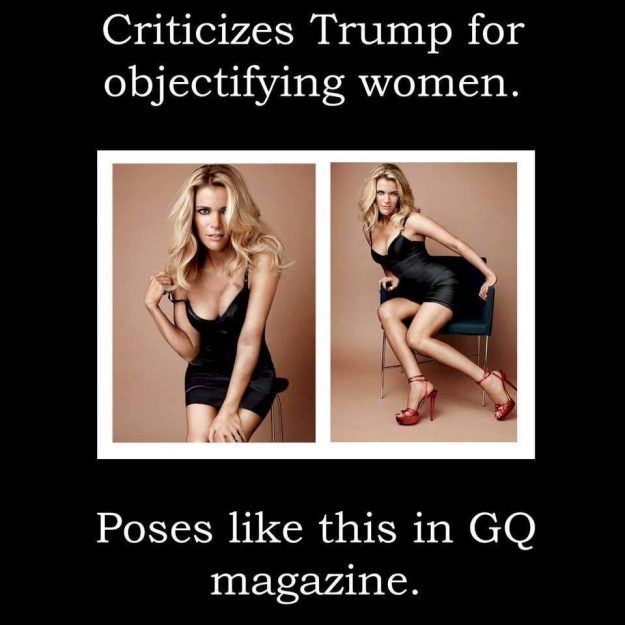 The hypocrisy of Liberal Hollywood with respect to these issues Beggars belief!
Self hater Male 1: "Lay off the sauce, Tim. Men have no more right to public spaces than women. Perhaps you could go back to your "kindy garden" and learn about sharing??"
Self hater Male 2: "Tim… The reason why there is no "space for men to be men" is because EVERYWHERE is their space. If it is something to claim, a man has made claim to it."
Tim Wikiriwhi: "Rubbish! Men are the most harassed Sex in western civilisation… accused of 'Rape culture' just for whistling at a Babe… not that the babes complain about it… its all the monsters who *never get whistled at doing all the complaining!
It was certainly not the Grid girls who complained about men being men, or about the glamorous well paying Jobs they had until the wowzers rained on the parade.
It's guys like you who 'Apologize for being a Man' who ought to be ashamed of how you pander to the feminist bigotry!
I'm all for equality… yet thats not *special treatment*…. equality is being able to work in a workshop beside men… if you have the skills… yet not demanding they take down Calendars with babes on them… and no man would worry about them putting up calendars with hot guys on them…. *Thats equality*… not imposing your petty sensitivities every 5 seconds… thats being precious… and expecting to be treated like some delicate flower!
Grow up!
The video below shows how feminists are attacking Darts 'walk on girls'

Todays 'Fourth wave' feminism is not about equal rights… its about Nut bar Liberals forcing their deranged ideas down everyone elses throats By countless new rules and regulations… and its evil and suffocating.
Listen to the words of a grid Girl (Link below)…. esp the part about how this sort of deranged submission to the Neo-feminist craze hurts woman and is *hypocritical* in the light of claims the movement seeks *Wage equality*… etc.
Here was a Job in which *Woman* clearly have the advantage over Men and shows what a joke the whole delusion that woman are somehow disadvantaged by systemic 'patriarchal oppression'.
Feminists *cherry pic* certain occupations where they say they have found disparity (as if perfect symmetry in human demographics is even a rational ideal) yet not only do they ignore any statistics that clearly show men are at at a disadvantage… they actively work to destroy jobs like this that woman dominate… under the deranged idea that these woman are oppressed!
The entire edifice of Neo-feminism is founded upon vicious propaganda, and *Sexism* against Men and any woman whom like men and dont fit into the feminist framework of Man-hating victim.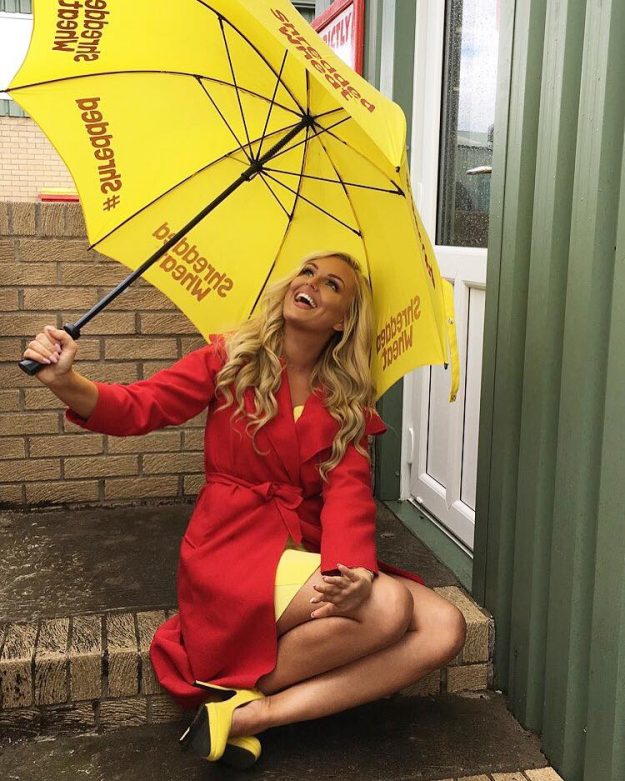 Grid girl Giorgia Davis
Read what Grid Girl Gioria Davies has to say about losing the job she loved… from her Facebook page… Here
Gloating Liberal: " Poor Tim. You sound so angry and having your perving curtailed."
Tim Wikiriwhi: "I am not ashamed to be a man who likes beautiful woman.
I refuse to take on board any guilt trip about that… its natural and completely within the bounds of decency, in fact beauty is something that ought to be appreciated."
Naive Male: "[Tim] Check out who owns F1 and who made this decision, you could not be more wrong."
Tim Wikiriwhi: "Dont pretend this is not part of the whole wave of nutbar Liberalism! We see this crap going on across the board, in every industry… Its all related.
They are feeling the backlash of the hysteria around Weinstein and the 'Me too' movement…. full of hypocrites."
******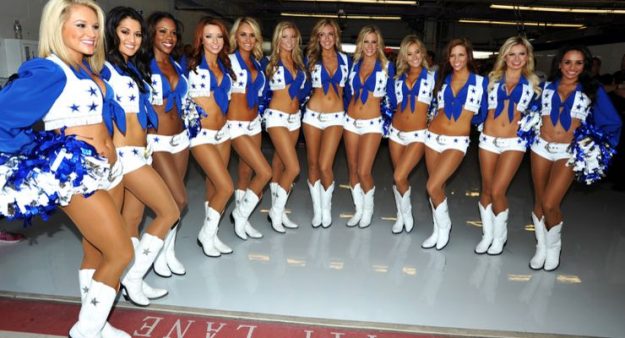 And thats the truth!
This is nothing new… all predictable… all part of the surrender of Freedom and Mens's rights to the Lunatic hysteria of Lefty Liberalism and Neo feminism.
We can be sure that they will attack cheer leaders in othe sports too!
The feminist movement that ones had noble ideals has been completely over run by whacko Man haters whose agenda is nothing short of absolute Sexist bigotry against men and sexy woman.
This is the nutbar movement that hangs giant Vaginas over their heads and parades down the street!
This is the movement that thinks calling themselves 'Nasty woman' and having blood tricking down between their thighs is a some sort of Bold stand for womans 'Liberation'!
This is the perverse movement whose members bring Cookies to school for young children shaped like vaginas!
They are violent.
They act like a crazy mob!
They hate men and want them to die!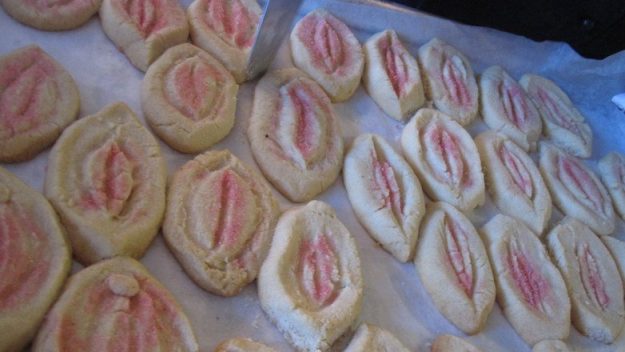 Biscuits provided by a whacko liberal mom to a 2nd grade class.
The truth is the War was won against woman's oppression in the west a long time ago, yet the Liberals have no other modus opperandi but to play perpetual victims of the demographic they despise most… White Men.
It is frightening to realise that most of western civilisation is governed by Liberal Freaks who seek to make all this insanity offical doctrine… and Law.
It is frightening to realise that Men have been systematically driven out of the education systems and that these are now infested with whacko feminists and liberals who are not only teaching little girls and teens to be militantly neo-feminist, but are also torturing our boys… simply for being boys… whom they see as future 'rapists and benefactors of the patriarchy'.
Schools are purposely disadvantaging our sons to try and hobble their ability to function in the future… socially engineering… an advantage for girls across the entire spectrum of society.
Our Law courts are heavily weighted against men and fathers.
Woman escape justice every day for their Violence and frauds committed against men!
Police refuse to charge woman for their lies and abuse.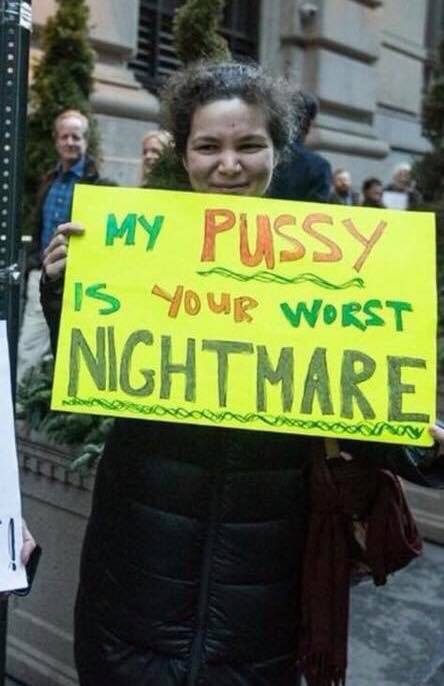 Its an outrage!
And its why I am writing this blog, and why I have opposed Neo-feminism for years as a Moral Libertarian duty.
Those of you who think I am over reacting to this F1 decision are brain dead Zombies… oblivious to the magnatute of the Evil that is involved in all this.
Western civilisation is going down the toilet… and I for one will not cheer.
Now I am not a misogynist.
I respect woman, and I believe in their equal rights and liberties, yet these Neo-feminists are Dangerous and deranged, and their bigoted and hate filled militancy is absolutely frightening to behold and I fear for my Children's future!
Our Sons will inherit an oppressive system, and our daughters will be brainwashed and not understand what the true virtues of femininity are!
This will only accelerate the collapse of Marriage, Family, and the home… to the misery of all.
I dont have any angst against 'Big' woman… or 'plain' woman… or woman past their prime, yet *Envy* is one of the most prevalent and base of human characteristics and these types are easily consumed with envy at the 'sexual capital' of young and sexually attractive woman, and how men swoon at their feet.
They try and pretend that there is something Evil about that to justify their outrageous jealousy and rage.
The side of Equality of rights and liberties is clearly on *my side* in this debate, and it is *I*… not the side of the 'Fourth wave' Neo-feminists who is speaking up for the rights of woman in these situations.
The woman's whose rights I am defending just so happen to be the most gorgeous creatures on the planet who make the most of their Beauty… and I am defending them from all the fake feminism that is nothing but vile sexism cloaked under the garb of a liberation movement.
Tim Wikiriwhi
Christian Libertarian.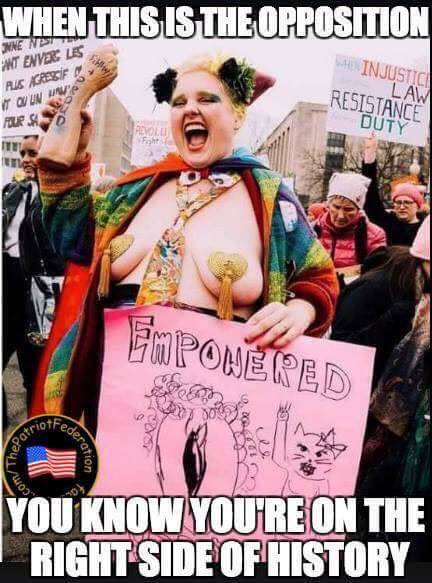 More from Tim…
Geoffrey Palmer and the Rape Culture of Socialist Government. Teaching Liberals the Principle of Consent
The War is over…Neo-Feminism is a Joke.
Feminism, Lisa Lewis, and the death of romance.
Heart Ripped out. This ones for all the Dying Dads … and the Survivors.
Police Sexist bias exposed by failure to prosecute Lefty Dildo thrower.
Transgender syndrome: Feminism's Satanic Plot and the slide towards Armageddon.