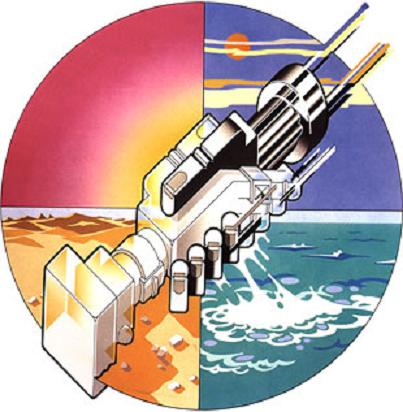 "If it be possible, as much as lieth in you, live peaceably with all men."
The Christian Libertarian Principle. St Paul. Romans 12:18
I have taken my time to get around to writing this post as I have had other things to deal with, yet circumstances have now conspired to make room in my chaotic existence to take care of this very interesting and important monologue.
My regular readers will be familiar with the fact that I have been in communication with a New charitable trust which has started operating in my home town of Hamilton in the Waikato Region of New Zealand.
It's name is 'Hamilton homeless' and was started when a woman by the name of Claire Chapman listened to her brother whom was upset by the fact that he had seen homeless people in the CBD eating out of trash cans.
Being a Religious woman ( a Mormon), She decided that she would do something about this…. And started bringing soup and bread into town and distributing it to the homeless.
She was overwhelmed with how many people turned up on the first night, and so she came back again and even more people turned up.
This was a revelation to her… she realized there was a great need for this charitable work, and with the support of her husband Kyle, and some of her friends… they decided to make this a regular and ongoing activity.
That's when the Hamilton City Council came along and tried to drive them out of the City.
(Read about that >>>here<<< They said they had received complaints from business people who were unhappy that 'their CBD' was becoming a magnet for the dregs of society, that the Free food was making a mess, and that it was 'unlawful' to engage in such activities without a permit, and that if they continued to do so the would face arrest. Yet Claire would not be Bullied. She had met many of these unfortunate people… sometimes whole families whom were destitute and hungry, and she was determined to help them even in the face of these threats. The City council tried many devious ways to move them out of the CBD, suggesting 'alternative' areas where they would 'prefer' the Rabble to congregate… yet this area was far too far away from where the action is… Anyway the upshot of all this was that the Local papers caught wind of this confrontation with the City Council and so via the Papers, Hamiltonians of Good will became aware of the Charitable deeds of this fledgling enterprise and were inspired to rally from all quarters, and one and all were welcomed with open arms.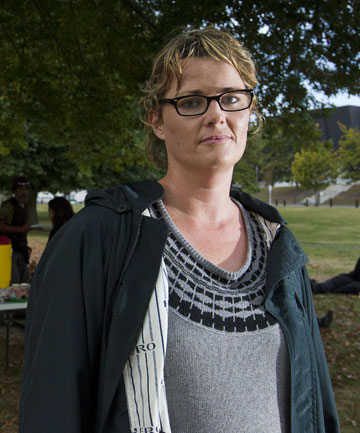 Claire.
Having now laid down the basic circumstances for Eternal vigilance readers as to how Hamilton Homeless arose, I would now like to get down to the central reason I am writing this post… the almost universally apprehended Ideal of 'Loving thy Neighbor as thyself' , and how such a widely accepted and virtually self evident truth can become the basis for not only peaceful co existence, but also for voluntary co-operation between a great disparity of peoples from all walks of life.
I want to point out what great hope this sort of Universal value has for the attainment of a Free, and peaceful society.
'The Idea that we Ought to love our neighbors as ourselves' is so self evident that it may even be described as a 'Natural Law'.
It is my belief that Christ himself made many appeals to such 'Natural laws' because he knew that even among the uneducated… common folk, that he would find understanding… that the vast majority would be able to grasp the underlying rationale, and would thereby concede to it's righteousness.
And this is such a basic rationale that once it has been articulated, It stands on it's own merit. Ie It's like Geometry… the Rules of a square… the rules of a Circle…. Are understood and accepted virtually universally… irrespective of peoples personal beliefs.
So in *this sense* the 'ought-ness' or Law to 'Love thy neighbor as thyself' may be said to be a secular truth, and is not only accepted by the followers of Christ, but also by many peoples of a vast diversity of religious faiths and political persuasions… including Atheists.
Despite many differences of opinions on many other points, the rightness of helping the poor makes as much sense to many Christians as it does to many Atheists, Jews, Muslims, Hindus, etc.
Thus Charitable compassion for the poor and needy can be a point of rally for any individual with a compassionate heart, to co operate together with others for the sake of this noble cause… and realizing this my friends ought to fill your hearts with hope that Libertarian Good will *Can* bring peaceful co-existence!
I sincerely believe that a small collection of these virtually universally accepted values can form the basis for a Social contract of Libertarian Tolerance, co-habitation, and peace.
A Free and peaceful society.
Theses values form a basis for universal voluntary consent to a
'secular society'… which by the way is *not* an atheist society… Militant atheists have pulled a great swindle by claiming 'secular truths' are 'atheist truths' when in fact they are simply 'Truths' which stand upon their own merit…. Neither atheist or theist…. Eg a Square is not an atheist or a theist construct… it is simply a geometrical construct… accepted by all men of reason irrespective of their personal religious persuasions.
And so I beseech Christians and other religious peoples not to equate or surrender 'secular truths' as godless, but to appreciate their Neutrality.
And it is this Neutrality of the formulation of the 'Natural laws' which imbues them with the glorious potential to become the foundation of a truly Free and equal society.
You see to have a free and equal society does not require agreement on all things… only agreement on a minimum of Basic essentials… everything else falling into the domain of Tolerance, and the liberty of the individual to follow their own consciences and pursue their own happiness.
Differences may be rationally argued via free speech and freedom of association… with ultimately a policy of 'Live and let live' as long as the few basic articles of the social contract are honored by all parties.
It forms an overlapping consensus.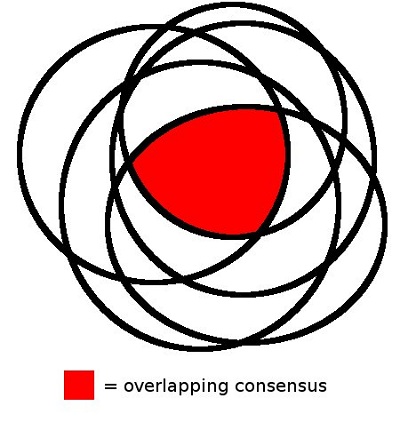 Having said this let me now expound how that long winded spiel correlates with Hamilton homeless, and the Menagerie of Individuals whom having seen for themselves the virtue of what Clair and Kyle were doing, decided to volunteer their time, and money to help feed the Homeless of Hamilton.
I cant give a full account of variety of charitable souls whom showed up.
They truly were from all walks of life.
Most of them belonging to Political or religious associations of which I personally disagree with on many accounts yet still when it comes to volunteering their time and energy to help the needy… I salute them!
For starters there was Claire and Kyle, and some of their personal friends…. They are Mormons.
Then there were some who had once upon a time lived in poverty themselves, and had received help… and having now recovered and are living more comfortably, they simply want to 'give something Back'.
Then you had Yours truly… a Christian Libertarian whom has been looking for both fellowship, and a worthy Charitable cause to volunteer myself, out of Love and respect for God, and my fellow human beings… in need.
Then there was at least one Maori Radical political activist with whom I had crossed swords on several occasions over the Years.
She tearfully expressed her sadness that her own 'Artist' brother had lived 'a gypsy life' and had recently died.
Despite any political differences of opinion her and I have, I would never deny the truth that she has a compassionate desire to help the needy in her community, and I have read reports of her caring deeds at the coal face already.
What is amazing about this voluntary association is that it has the power to unite such disparate personalities in a bond humanitarian good will, and as long as the leadership keep things simple and focused, … this Bond should remain firm… and could even be the genesis of better understanding and relations on a greater sphere of values and ideals held individually.
This is an awesome concrete reality which demonstrates the potential for Hope in humanity which is to be found in Freedom and voluntary association!
Think about that.
In this capacity, Hamilton homeless embodies some of the Highest *Libertarian ideals!*
Anyway you may think that I have covered enough already for two blogposts…. I sympathise… yet still I have yet one last Bunker buster Bomb to deliver… one more volunteer to describe!
I will do my best to keep this last point as short as possible.
It could cause some people to withdraw any support they were contemplating, because it stretches the boundaries for some as to how far tolerance should extend, and it challenges the Tidy little Boxes we love to create in our heads so that we can with the least effort classify various individuals with whom we meet… and pretend to ourselves that this is all a very reasonable process.
When it began to dawn on me what/ who I was dealing with… I had to take a deep breath and take a few moments to seriously think about the implications.
After a quick contemplation of the situation, I decided that I would display the same grace as I …in faith…trust my Heavenly Father has for wretched me.
Nek minute…
26-4-14 Waikato Times Front page.
'White power activist feeds homeless'.
The organiser of a group taking donations from the public to feed Hamilton's needy has defended the involvement of her husband – white supremacist Kyle Chapman.
Hamilton Homeless organiser Claire Chapman says there is no connection between her organisation and the white pride group, Right Wing Resistance (RWR), that Kyle Chapman is director and founder of.
"My husband, his interests aren't my interests; however, my interests are his interests," Chapman said.
"Kyle is helpful and feeds the homeless every night he can."
Kyle Chapman, the former leader of the National Front, is the funding co-ordinator and organises meals on Thursday nights for Hamilton Homeless, an unregistered charity.
The contact number listed for Kyle Chapman on Hamilton Homeless' Facebook page is also the number for the headquarters of RWR.
Read more >>>here<<< KABLAM! You didn't see that coming did you! :-) When I turned up to my first Hamilton Homeless meeting I met Claire, and she introduced me to her husband Kyle, We shook hands, and I said he looked familiar and that I must have 'seen him around'. The meeting began and the conversations progressed about how everyone had a desire to help the needy in Hamilton. And I was pondering where I had seen Kyle before… and then It dawned on me! I had seen him several Times on TV fronting a Neo Nazi 'White power' organization!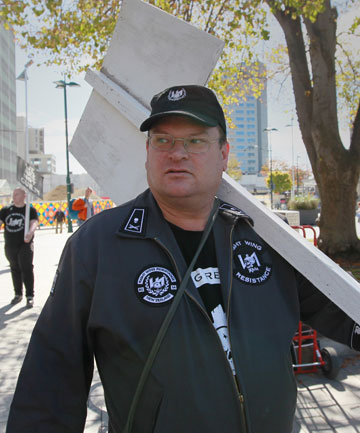 As you can imagine that was quite an unexpected cognition!
Here was I sitting… listening to a lovely and caring woman concerned about feeding the Poor of Hamilton… a large percentage of whom are Maori, and to my right I am looking at her White power Husband to whom she has three kids!
This meeting had gotten interesting indeed, yet there and then, I had to mull over many internal dilemmas.
There must be more to this guy Kyle than what is common opinion about what white power Nationalism represents.
Was He still involved in that movement?
How close an association do I really want to have with him?… you know how it is… "Oh Tim Wikiriwhi is a traitor to Maoridom… He Hangs out with the Nazi's", etc.
I'm quite used to being called a traitor to my race, yet still the idea that By belonging to Hamilton Homeless I was almost certainly exposing myself to even more slander was reason to pause for contemplation!
What Tim are you going to do?
As I sat there and listened to Claire's efforts to get food to the hungry… many of whom are of Maori ethnicity, and the heartless persecution that she was facing from the City council simply to fulfil her personal conviction that this work was what God wanted her to do, and contemplated that her husband Kyle was in full support of her trials, it dawned on me that Kyle simply *Cant* fit into that 'Box' conveniently labelled 'Racist Fascist Bigot'.
I decided then and there that I would throw away *that box* (or at least not try and force Kyle to fit tidily and conveniently therein), and to make my decision about how I would proceed based upon what I was witnessing first hand… That despite his past, that Claire thought Kyle was a decent human being.
I saw that he was obviously supportive and co-active in this noble charitable work, and so I decided I would give him the benefit of the Doubt… cut him some slack… some grace…. just as I need the grace of the Lord.
When I left the meeting, I went over and shook his hand and said I knew who he was, and he said that Claire and Him wanted to keep that separate from the charity work…. And I said that was cool with me.
A week or so later the Newspapers broke the 'front page story'… $ensational $tuff!
I chatted with Kyle at a later meeting at their home… the very day the News article hit the streets, and learned that he was still a leader of the 'Nationalist Resistance'.
He admitted that there are Racists in the movement, yet that he himself is *Not* a racist.
*WoW!*…. Talk about challenging ones packaged assumptions!
Here at this 2nd meeting I… the Libertarian.. sat between a Maori Radical, and a Nationalist Resistance leader… discussing how they could co-operate to feed the poor!
Talk about a Mind F!
I was actually witnessing a scene which exemplifies the classic duplicity of our NZ society which has become acclimatized to making out 'the White guy' is a racist…. While condoning Maori separatism as a defiant act of 'self determinism'!
For me the meeting did not progress in a direction which I had hoped… >>>see here<<< yet still it was a spectacle to behold!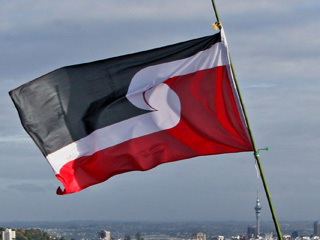 Representatives from what is assumed to be two diametrically opposed groups setting aside their differences for the sake of a common value!
Furthermore, it was a testimony to the fallaciousness of what passes in society for thinking…. The bogus Idea that Individuals may be classified and collectivizes into tidy little boxes… and judged to either be fit to participate in our society… or be Damned.
Both Kyle and Alvina (the Maori Radical) demonstrated some very 'inconvenient truths'…. Which the Media and general public are too lazy and uncaring to contemplate… that maybe in spite of some of their 'extreme' views, that they still have a caring and compassionate heart when it comes to those in need… enough to set their differences aside.
In reality, how different are these two factions?
In my view they are akin… yet one side certainly gets vilified while the other is 'Politically correct and 'official doctrine'….
What is amazing to realize is that despite opinions as to the veracity of their political beliefs, there is still hope for peaceful co-existence between the most extreme dichotomies… if they will but appreciate that within a Libertarian framework individuals are free to hold their own beliefs and to pursue their own happiness as long as they do it privately, and respecting their neighbours Equal rights to peacefully do the same.
This is what it really means to love thy neighbour as thyself!
Ie To tolerate and accord everyone the same right to peacefully … in Freedom… hold their own opinions… even when you don't agree with them… or like them.
You don't want them to use political force to impose their views upon you… so likewise you ought not to lobby government to impose your views upon them.
Thus as a Libertarian who also holds strong personal religious convictions (I'm a King James Bible believing Protestant Dispensationalist) and so I personally think Mormonism is wrong, Maori Separatism is wrong, and White power is equally wrong,… as long as people pursue their own beliefs peacefully and privately…. Without lobbying the government to impose their personal beliefs upon others… then they may freely follow their own conscience, and propagate their own beliefs via civilised means.
Libertarianism is their neutral friend… not their enemy… as it embeds those few commonly held / universal values as the constitutional laws of the land, and there by leaves the greatest scope for freedom.
These few principles have the power to form the foundation for peaceful co-existence and even co-operation.
In Peace I applaud every individual whom cares enough to use their own time, money and energy to help feed Hamilton's hungry irrespective of their other personal beliefs… including Alvina.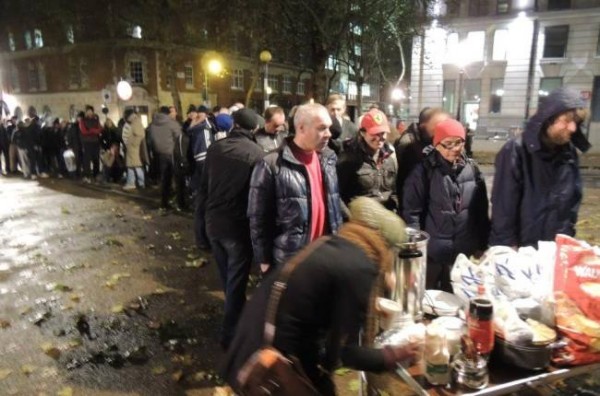 Hamilton's Needy.
That's enough from me for now… I'm going to post this to Eternal Vigilance.
I cant say that I know what Kyles ' National Resistance' is all about.
I'll need to do more study.
I don't really know Kyle either… I'll just say that It's been a real pleasure to meet him and to talk to him, and from what I See daily from Hamilton Homeless, I congratulate him and his Wife Claire for the wonderful charity work they are doing.
He certainly does not fit into the Box which the Waikato Times tried to shove him.
He's not a Racist.
His Good works prove this.
I dont pretend to understand how he fits in his 'non-racism' with his Nationalist ideas, nor do I really have to … that's his own business.
I applaud Claire's enlightened 'open door' non-partisan… non-denominational policy.
I salute them both, and intend contributing to their charity… and hope to get to know them both better.
End note: I dont know how Christians can be Racists?
It is staggering to know that Millions of Christians have failed to apply the principle of loving their neighbours *as themselves*.
How can they not appreciate the truth that in Christ there is neither Jew nor Greek, but all are one in Christ?
The Lions share of Troubles and ideological conflicts in our society and the world at large are caused by those whom want freedom for themselves, yet despise freedom for others and believe they have superior rights to everyone else.
They seek political advantage for their own Faction to oppress those other sectors of society whom they hold a prejudice against.
Most often they tend to cloak their bigotry and lust for oppression in the garb of social concern, and self-righteousness.
If only these groups could appreciate the value of Equality and freedom… voluntary association… they would realise they could have peace and security for their families… and still be free to peacefully follow their own beliefs.
And I believe the virtue of such Freedom an equality would with time work to corrode the bigotry which under pins the most extreme hate groups.
Tim Wikiriwhi.
Christian Libertarian
Hamilton New Zealand.
Update 11-5-14. Kyle Chapman Responds.
Great article.
Just one note. The white power label is a media construct. The racist label is a political and media tool created to put people in a box so that they can ignore anything the labelled person says after that. Trotsky said he made up the term "racist" to fight nationalism.
The whole thing is a scam designed to fight political groups that fight globilization. Nationalist orgs world wide do charity drives etc. Its just not reported since the media is run by globalists who hate nationalism. So they take a dishonest view of their political rivals. Using their position to spread misinformation.
The media do this with anyone who fights the agenda they follow. They also have a more simplistic reason for their lazy reporting and sensationalism. Its called employment and profit. Controversy sells. They make stories more controversial in order to make more money. They lie often to push this agenda. Not many people around now who havn't seen this for themselves either through personal experiences or seen it done to someone they know. Study the truth. Don't believe fairfax and other global media companies. They are all about money and spreading global agendas.