This is part 2 of my coverage on the Liberty Conference. Crowne Hotel, Auckland City. 6-10-12.
Part one: Liberty Conference Here:
Important Note:
This article is 'the truth' as seen though my lens. Ie The words used are sometimes virbatim… sometimes my colourful interpretation.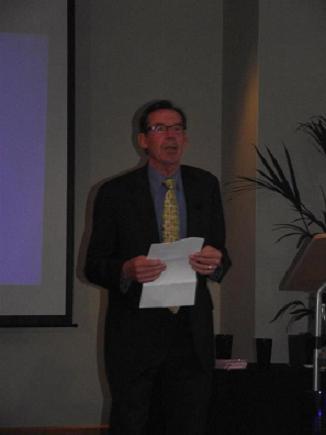 Kiwi Legend and super city councillor Dick Quax speaking at the Liberty Conference Auckland 6-10-12.
Dick jumped in last minute to fill in for Whale Oil Blogger Cameron Slater whom could not make it due to the death of his mother. We at 'Eternal Vigilance' express our condolences to you Cameron and regret that you could not be there.
Dick Quax did a spectacular job filling in at short notice… Thank's Dick!
It has been 2 weeks since the 'Liberty Conference' was held in Auckland, and I have been too knackered to write this second half of my review… I can delay no longer.
In this second section I would like to review what was discussed in respect to local body Politics, esp the contributions made by Kiwi Legend and Supercity councilor Dick Quax, and retired city planning engineer and developer David Willmott.
This is a topic of interest to me, having been involved in pubic debates on Local body issues, making submissions on bills, and having stood in many elections for Hamilton City Council, both for Mayor and Council, as a representative of the Libertarianz party and as an Independent.
The Liberty Conference opened discussion on how Liberty lovers ought to concern themselves with Local Body Politics.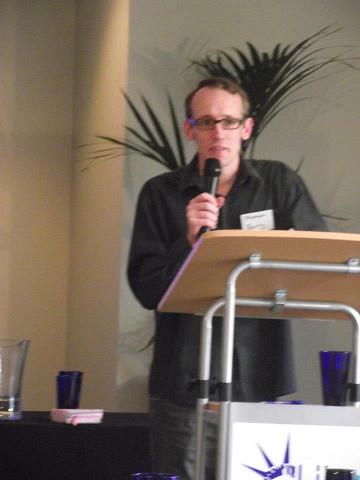 Stephen Berry.
Conference Organiser Stephen Berry spoke about his experiences and various stratagems standing for Mayor of Auckland city. Though he confessed that despite his best efforts to Bombing out big time at the polls, and being bitterly disappointed, none the less he is convinced Local Body politics is something that Liberty lovers ought to be involved with both for it's own sake, and as a platform to increase public profile to boost efforts in National level politics.
Steve's experiences and emotions, and ultimate faith that any future association of liberty lovers ought to involve themselves in local body politics reflect my personal experiences in Hamilton. I too have suffered miserable results at the polls, yet still believe Rate payers are in dire need of Candidates offering real alternatives to the Big spending tyrannical, Socialist/ United Nations Agenda 21 ideology driven Busy bodies whom have dominated the Local Body politics of our Nation.
Steve did not mention one of the chief reasons why guys like us bomb at the polls is that despite our best efforts we are up against a horrendously un-level playing field in Local body democracy due to the Moral bankruptcy of 90% of the Media whom… unless you are a TV personality or sportsperson… purposely shut you out of Election time discussions, thus utterly failing in their duty to inform voters of alternative arguments, possibilities, and directions to the Status quo.
I discuss this failure of the Media here:
and here:
Yet still the Liberty Conference was convened to rethink our methods, and form a strategy to break through the Media black out and win elections.
More on this in the conclusion.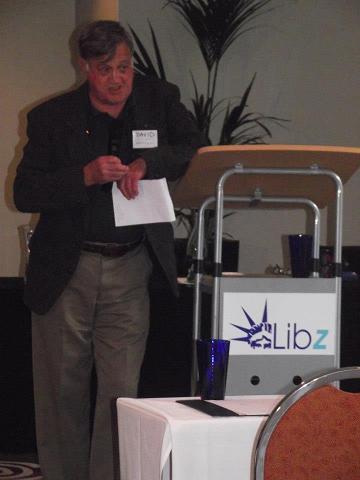 Dave Willmott.
There were two 'insider' speeches delivered at the Conference.
One by Ex City engineer and developer David Willmott.
He stood as a candidate for the Super-city in 2010.
The other was a spectacular Speech from Super city Councilor and Kiwi Champion Runner, Dick Quax.
Both talked on a similar thread but from different experiences and insights.
Both spoke well.
Now I am someone whom has always been scathing of the voting mentality that elects 'Celebrity candidates', and so I was pleasantly surprised and very impressed with Dick's insider view into the mindset of the Super city Council and Mayor Len Brown.
There is certainly more to Dick Quax than Athletics.
Dick decried the Platitude of Len Brown's "The world's most livable city"… saying Auckland was fast becoming too expensive to live in!
That Kiwi dream…Home ownership…is dropping at an alarming rate.
What more the planning would increase the evils of inner city life… less room outside for kids to play and exercise… thus more obesity, less nature…more 'industrial disease', etc.
David pointed out that ½ a years income bought you a 1/5 acre section in the 1970s.
Both speeches were scathing about the rising costs of building a home. Both speakers blamed the High cost of sections squarely on the shoulders of city councils whom refuse to permit the expansion of the city… by severe restrictions on the development of land on the boundaries.
Dick Quax explained that in consequence of the swamp of bureaucracy, there is currently a gross shortage of New homes being build, thus the high demand for housing in Auckland drives Real-estate prices through the roof!
He explained Len Browns vision was to even further exacerbate this problem.
See Aucklands projected population growth here:
Dick called Len Brown's Unitary plan "The Great Leap backwards", pointing out that though Auckland already had a population density 3 times greater than Perth, that it was the intent of the Leftist's to further exacerbate this.
He said that Len Brown's council are consumed with an Ideological vision of everyone living in High rise apartments built alongside a train tack!
I kept waiting to hear the words 'Agenda 21' … and was surprised they never came.
Dick's experiences, and concerns exactly parallel what I have seen going on in Hamilton City… the Leftist Social engineering hell bent on implementing this Diabolical United Nations Agenda… against the dreams and aspirations of New Zealanders. Of course the primary method of establishing this Leftist Utopia is by propagating
Terror of Freedom… Preaching Global catastrophe, and Greed… the selfishness of owning your own ¼ acre… and driving your own car!
Totalitarianism to the rescue!
Dick talked about Len Brown's determination to re-establish a 'monocentric' city via draconian means.
This parallels with Hamilton City councils fixation with the CBD…. wasting millions of Rate payer dollars on 'Facelifts' and also via heavy restrictions on business which threatens to drain customer Patronage away from the established/ olde town square.
Their Diabolical plan included 'Variation 21'… an attempt to resist the natural development of a Polycentric city, buy refusing to grant consent to the construction Malls and development outside the CBD… Blatant protectionism of the 'Old Boys' Money interests, and attempting to force the public to patronise the City council Metered Parking, and parking buildings, etc.
Thankfully Hamilton City was Defeated by Tainui, and They developed 'The Base'… New Zealand's biggest Mall out North West in Pukete.
Yet still developers face constant resistance from a Belligerent Hamilton City Council.
Read about HCC's Variation 21 Here:
Read about my proposed solutions as Libertarianz party Mayoral Candidate Here:
In Hamilton Len Brown's Rail based Hive, has been mirrored in Hamilton city councilor Dave Mcpherson who recently abandoned the Transport portfolio after a decade of attempting to establish City Rail in Hamilton (In particular a rail link between Auckland and Hamiltion).
That it was an economic absurdity that would have driven up an already staggering City debt was of no concern to Big Dave!
Like all Lefties Dave shows complete disregard for how his policies affect Taxpayers and Rate payers. I stood up many times and told Hamiltonians that The grand schemes and promises of McPherson and would be Mayor Julie Hardacre would come to naught.
I pointed out that these sorts of policies had already bankrupted Hamilton city and put us in financial crisis.
When my predictions came true no journalist from the Waikato times has bothered to interview me to discover how was able to predict the current crisis, or to report My honesty at election time, or the dishonesty of the New Mayor.
Read about Hamiltons debt crisis here:
Read about my attempts to save Hamilton ratepayers from Bankruptcy Here:
Dick Quax exposed the same disregard for Ratepayers was patently obvious in the Super-city. In his words…" How reckless the council is with other peoples money".
Rates increases for Aucklanders are planned at 2.5 times the rate of inflation, That rates would increase by 56% over the period covered by the plan ($2000 dolar Rates bill will become $3600), and still Len Browne would be borrowing a Billion dollars a Year!
Future ratepayers will be left with a megga debt so that 0.25c in every ratepayer dollar will go on interest servicing the legacy of Len's Lefties.
And to establish this 'Schemeo Grande ' Len Browne is busy accruing Megga powers so that that no appeals can be lodged against Council edicts.
Cheak out the Gatuitous Salaries of the Auckland City exec Here!
Now David Willmott was provoked to wrath in respect to what he saw as Ideological tyranny and foolishness… as opposed to Pragmatic solutions.
And I 100% agree that the Socialist ideology is to blame for this cancer which is effecting virtually every city in western civilization to one degree or another.
It is the UN Driven Agenda 21in action.
I disagree with Dave's conclusion that this situation proves that All ideologies are to be forsaken in favour of Raw Pragmatism (Ironically that view is a very flawed ideology in itself!) My solution is to overcome the corrupt totalitarianism of the left with a more just ideology which Restores the rights and liberties of the ratepayers, Removes all the bogus regulations which artificially drive the cost of land through the roof and make the construction of new homes unaffordable, and knock the city council off it's heavenly perch back down to earth… as the janitors of the city… that's all.
My biggest regret of the conference was that Dick left before I was able to introduce myself, and congratulate him for his awsome insights!
I would have loved to have sat down with a Beer and had a yarn with him.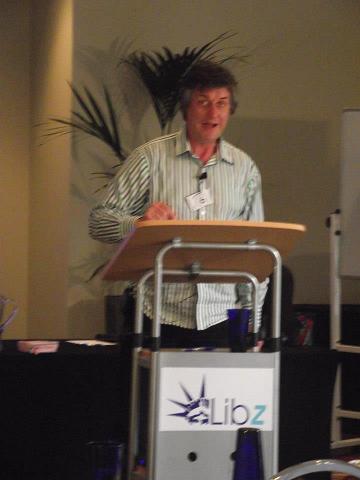 Peter Cresswell.
Peter Cresswell put forward the proposal the Liberty lovers contest Local body elections under the Banner 'Affordable Auckland'… 'Affordable Hamilton', etc say that this would have great appeal to the hard pressed Ratepayers, and would be difficult for opposition to oppose.
Others stood up and said it would be difficult for a National level campaign to capitalize off Local body activism using that brand, and that any local body activism ought to share the same branding as the National level campaigns.
Others were wondering how 'the five policies' (see part 1) of Tax relief, legalizing cannabis and euthanasia, Ending Waitangi racism, and Balancing the budget could be applied to Local body politics.
Obviously some of these would not really fit.
Would Candidates be able to express their personal opinion on broader issues?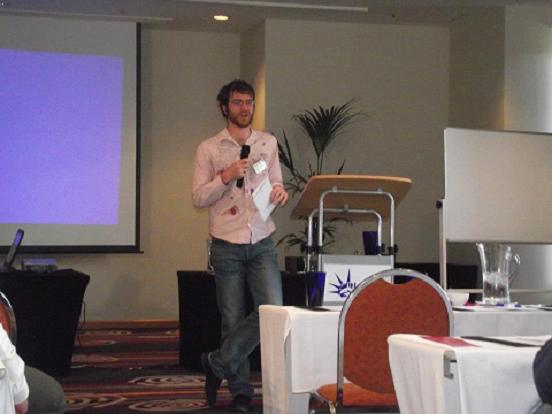 Daniel Peterson
Daniel Peterson stood up and made the point that local body politics does get involve in private matters like drinking, and this has been my experience in Hamilton as well, in respect to such things as Opposing Casinos, and The heavy handed prostitution bi law, attempting to stop Boobs on bikes, etc.
I have always spoken out against the City Council playing Moral dictators… like the Taliban.
Just how any New Liberty Party would deal with these issues is yet to be worked out.
That there is a dire need to Reform local body politics and fight the diabolical Lefty Agenda 21 tyranny …there can be little dispute.
I asked Steven berry to include me in the working group charged with coming up with solid proposals for consideration at the next conference 2-2-13.
I have not yet herd anything from Steve.
Anyone interested in these things ought to consider attending the 2-2-13 conference.
Read about some of my Local body exploits here:
Tim Wikiriwhi.