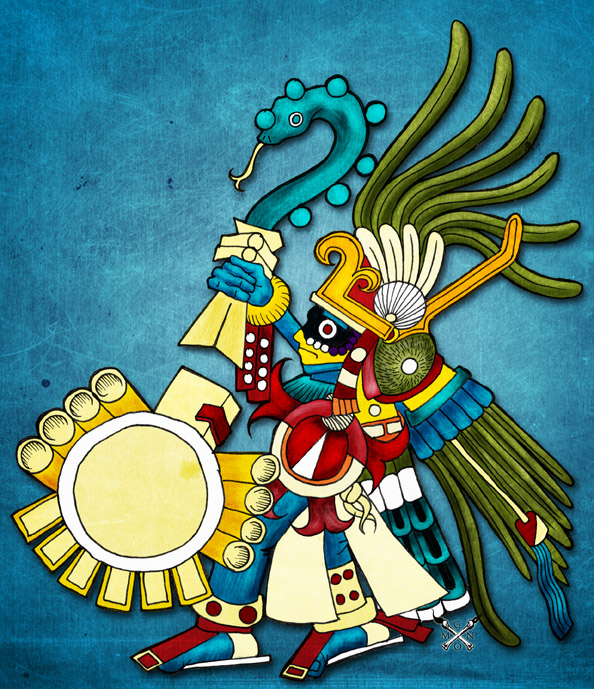 The Boodthirsty Deity of the Aztecs Huitzilopochtli
One alternative to the atheist amoral world view (see part 1) in which the moral question regarding suffering and death of children is written off as ignorance….. is that there really are objective standards of 'ought-ness' in the universe… and that having feelings of injustice are not silly delusions… not mere evolutionary expedients… but valid. Ie that such feelings are an awareness that some experiences and realities 'ought not to be thus.'
If we accept this second view to be correct, immediately we must ask then how are we to know what is truly moral and what is not?
What is the standard by which we may rightly judge events, actions, and cultures as being Good or Evil… how do we escape mere subjectivity and cultural relativism?
And what about 'Natural evils' like floods and disease and distinct issues from Man made evils?
It is this second type of question which most people struggle with, and it raises the prospect that though indeed God may exist yet still he may not be Good at all!
Was the universe created by a malevolent being?
Is God a capricious tyrant?
I want to focus on this second line of questioning today. I will only touch on the Human factor in respect to evil in the world…'why does God allow men to commit evil actions?'… by simply saying we are freewill moral agents and that as such we are free to live good lives or to be evil… and yet inspite of the apparant 'licence' we have to commit evil that I believe that one day we shall give an account… justice will prevail.
Does 'Shit happen' because God is not Good?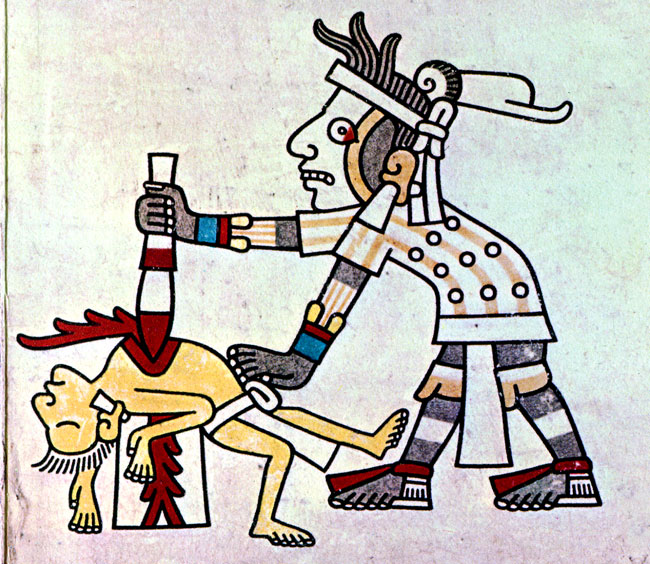 Aztec Human sacrifice to apease the Gods.
The Aztecs believed The Gods were in fact blood thirsty monsters!
They believed that if they did not satisfy their demand for Blood by plentiful human sacrifices that the Gods themselves would sleight their thirst by visiting them with Natural calamities… famine, Earthquakes, disease, etc.
This is their explanation for why 'evil shit happens'… Satan is god!
That is a horrible thing to contemplate… and believe!
It actually vindicates monstrously barbaric behavior!
The Aztecs used to prey on their neighbors and feed them to the God's.
There is a rationale here: either slay people to appease the Blood thirsty Gods… or suffer Plagues, pestilence, and disaster!
Some atheists will argue that this sort of barbarism is representative of religion in general. Ie Absurd superstitions which inspire Evil actions. And while I have already discussed the paucity of the atheist position, I confess that if I thought that Aztec-type rationale and practice definitively represents all religion… I would have never have forsaken Atheism! I could not worship such Monsters!
While I know that belief in a cold and indifferent universe cannot put moral restraints upon Human depravity, tyranny, and barbarism, I also know it does not expressly encourage it! Nor does it postulate a malevolent universe as does the Religion of Mexico.
Important Note: The Idea of Blood sacrifice is a common theme amoung the religions of mankind.
It is very possible this is evidence of an acient common origin from which many Deviations and dark perversions have occured as mankind has spread out around the Globe… drifting into darkness.
This Anthropolocical rationale fits in well with the Bible story.
Thus an original knowledge of Noahs animal sacrifice on Ararat… which pleased God… has been perverted into the abominable Human sacrifice of the Aztecs… and Their Blood thirsty Gods.
I will now argue that such a narrow description of Religion by Atheists as being a universal Evil… is one-eyed and naive. I hope that I can present an alternative description of God and alternative explanation for why Natural calamities fall upon the innocent, the Just, and the unjust alike.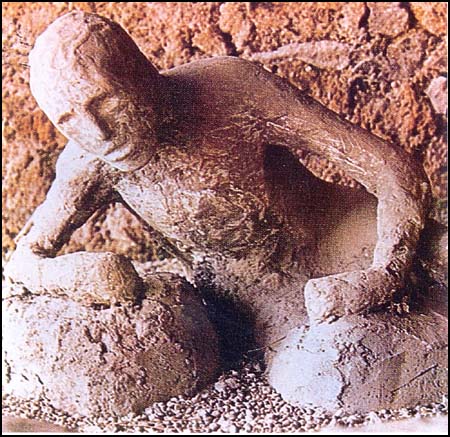 Sinner or Saint? A Victim of the Eruption of Versuvius.
There was a lot of sin and vice at Pompeii, yet this was true of many other cities too.
Why was Pompeii destroyed? Man, woman, and child?
First, before I get into the main argument as I find in the Bible, I want to say that It is not at all easy to isolate and distinguish what may be deemed to be Natural calamities, from the actions and responsibilities of Man.
Many of the 'Natural disasters' which befall us, and have caused Men to blaspheme and shake their fists at heaven, are actually a consequence of human ignorance and error.
Eg. Was It God's fault that Men Built Pompey at the foot of Versuvius?
Was it God's fault That the CTV Building collapsed in Christchurch killing hundreds of people… or is the chief blame to be place upon human error and bad design?
Even with things like plagues, floods, and diseases, mankind must take some responsibility for his own foolishness, unsanitary conditions and practices.
How many children suffer and die of Famine simply because of the Lust for political power?
When we realize this, blaming God for a huge percentage of the suffering and death of children, and 'good people' is misdirected indignation… He is being unjustly accused.
In the light of such reasoning, is it possible that God is neither indifferent or malicious?
Now we are getting to the Nitty gritty!
What makes many people refuse to believe in a Good God is this final kind of rationale… The apparent indifference of God. In spite of all human folly, and wickedness… ultimately Does not the fact that God allows the good and innocent to suffer still make him responsible for it all?
Why does he not intervene?
To avoid stretching this question out to far I will present the Christian answer to the problem of evil in the world in part 3. I hope to do it with economy, and so I am sure there will no doubt be questions that remain… yet hopefully they will fall within the framework of what I present in the next post.