When the Bible says "Charity never faileth…" its talking about the virtue of always being charitible, not that there wont ever be derths of Charity. History is filled with deeds and ages of inhumanity.
It ought to be obvious that true charity and compusory taxation are not the same thing.
One gives in liberty from a heart felt love of humanity and a self imposed moral obligation to help his neigbour when they are in need, while the other is obliged to give 'welfare' via Government coersion… and not from the heart at all.
Social welfare is not Christian charity. Welfare via coersion is actually an alternitive Anti-Christian system of 'false alms'. Many Christians foolishly mistake Lefty communism for true Christian charity.


"The process of converting social power into State power may perhaps be seen at its simplest in cases where the State's intervention is directly competitive." A Nock.
A Face book conversation I am currently having reminded me of a great political thinker… Albert J. Nock
The conversation was started when a fellow face booker posted an article that The Super City Council was considering making Auckland Ratepayers fork out for the building of a dry dock for the benefit of the super Rich mega yachts.
He lamented this expense…
Quote:
"Instead of the city propping up unprofitable business adventures, there are plenty of other projects crying out for funds that have no appeal to private enterprise but will be of direct benefit to all – or groups – of ratepayers. Just the other day came a story that Auckland's 777 community sports fields are closed more than 20 per cent of the time – more in winter when most needed – because of poor drainage."
He believes that would be misguided values and a gross injustice to use Ratepays money to build a dry dock for the wealthy and Better spent by government upon Drainage for a community sports ground.
This may sound like a good proposition to many yet I think he is making a serious mistake, which is to assume it is a good thing for the Government to be involved in things 'which Free enterprise has interest yet will be a direct benefit to all". He is assuming that unless the Government steps up… things like the poor drainage of a sports field would never be resolved.
This is when Albert J Nock and his book Our Enemy, the State sprang to mind.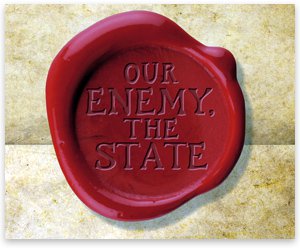 Concuring with this mans first point that it would indeed be a travesty for the state to build dry docks for the wealthy… and then moved strait to the point he made in respect to …'other beneficial projects that have no appeal to free enterprise'
"May I suggest it is neither just or necessary to use political coercion to make these 'Non attractive yet socially benificial projects' a reality either."
I offered up my Libertarian alternative…
"There is the mechanism of the voluntary association/ society by which the spirit of charity and social wellbeing is voluntarily organized in non-profit organizations. It is via these mechanisms that people may show their Humanitarianism without recourse to Political coercion or using the 'filthy lucre' of money Politicians have extorted from the people via Rates and taxes. B y leaving all such 'projects' to the voluntary sector and forbidding the Councils or Government from getting involved in such things we can rope in Government Medaling and better control their expenditure. This way we restrict their powers and spheres of operations to their proper duties, and set up the dynamics of society by which Non-political solutions to problems and needs are both understood and may prosper.
Albert J Nock wrote on this important subject and showed that The more social responsibilities the state takes control of, the more the Self-reliant Social spirit of the community atrophies , and so becomes less able to fend for itself, and more dependent upon the state.
This is the Process by which the people are rendered irresponsible and gullible worshippers of Nanny State because they assume all life's problems have political solutions.
We Libertarians seek to reverse this process and thereby increase society's ability to look after itself in freedom, and reduce dependence and the costs, and spheres of operation of the state.
It is a society in which voluntary associations flourish, and Government expenses bureaucracy are kept to a minimum.
The Christian fellowship is a voluntary association.
It ought never to be used as an excuse for political impostions of private 'values'
It preaches voluntary embraced values, voluntary action, voluntary charity, thus functions propery without political coersion.
Christian virtue, self reliance, and Liberty are in harmony.
"Thus the State "turns every contingency into a resource" for accumulating power in itself, always at the expense of social power; and with this it develops a habit of acquiescence in the people. New generations appear, each temperamentally adjusted – or as I believe our American glossary now has it, "conditioned" – to new increments of State power, and they tend to take the process of continuous accumulation as quite in order. All the State's institutional voices unite in confirming this tendency; they unite in exhibiting the progressive conversion of social power into State power as something not only quite in order, but even as wholesome and necessary for the public good."
A Nock. Our Enemy, the State
The State, always instinctively "turning every contingency into a resource" for accelerating the conversion of social power into State power, was quick to take advantage of this state of mind. All that was needed to organize these unfortunates into an invaluable political property was to declare the doctrine that the State owes all its citizens a living; and this was accordingly done. It immediately precipitated an enormous mass of subsidized voting-power, an enormous resource for strengthening the State at the expense of society…"
A Nock. Our Enemy, the State