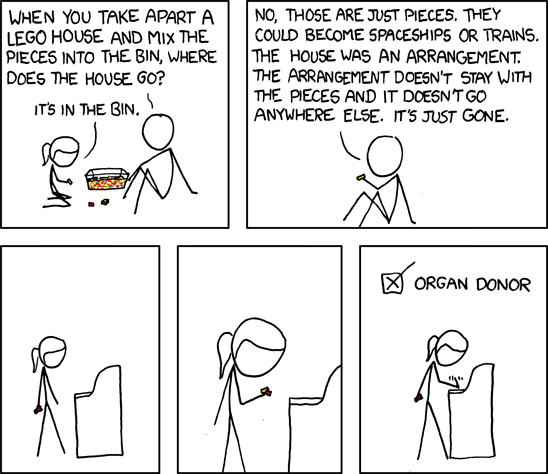 Are you lego or logos?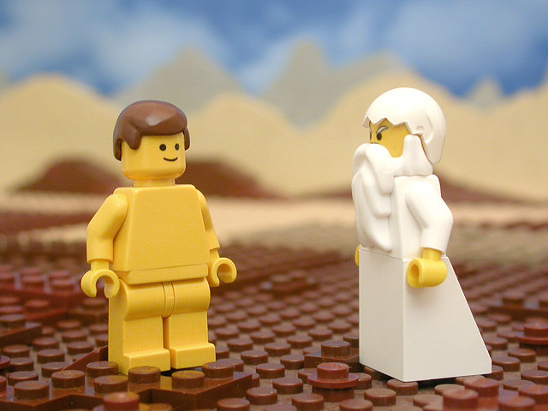 In the beginning was the Word, and the Word was with God, and the Word was God.
Philosopher Nicholas F. Gier explains the Logos Christology of the Gospel of John.
The famous prologue begins: "In the beginning was the logos, and the logos was with God, and the logos was God." The standard English translation of logos is Word, following the basic meaning of lego as to say or speak. In other words, God is the author of the logic of the world, and his son is the expression of this logic. Furthermore, in the Genesis account of creation God speaks, or as Leonard Bernstein has suggested, sings the structure of the world into being. In Christian theology Christ is the one who orders the world; he is the one who puts it together, gives it meaning, and then redeems it from its fallen state. As Paul states: "For in him all things were created . . . and in him all things hold together" (Col. 1:16-17).

The etymology of the logos, the Greek word behind "reason" and "logic," shows that the idea of synthesis is at the origin of these words. The Greek logos is the verbal noun of lego, which, if we follow one root leg means "to gather," "to collect," "to pick up," "to put together," and later "to speak or say." We already have the basic ideas of any rational endeavor. We begin by collecting individual facts and thoughts and put them together in an orderly way and usually say something about what we have created.
There are three Reasons that I prefer Andrew Sullivan's translation (and mine) of λόγος.
In the beginning was Reason, and Reason was with God, and Reason was God.
[Proudly powered by LOGOS™.]