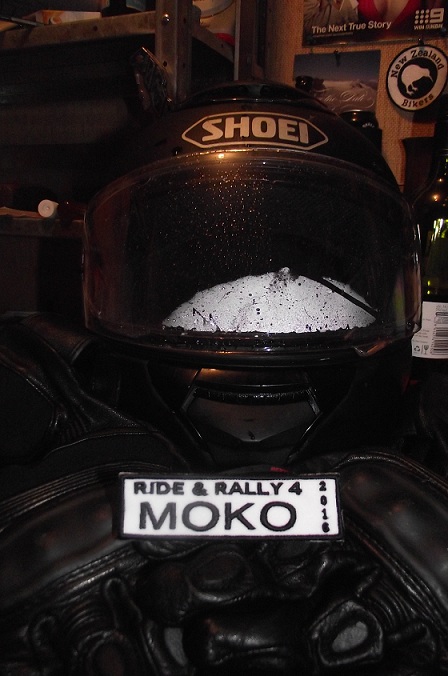 Today was a day of Bad weather and mixed emotions.
I was proud to ride with a group of conscientious Bikers who took time off work and braved the wind and rain to ride for Justice for Moko… a Beautiful three year old boy who endured horrendous treatment at the hands of Adults whom were entrusted with his care… and was robbed of his life.
Today, all through the country Kiwis gathered outside their local courthouses as this is the Day his Killers are to be sentenced for their unspeakable wickedness.
I ask myself what further proof of Humanity's pitiful and morally lost condition, and alienation from God could possibly be demanded from unbelievers …. as evidenced by such unconscionable crimes as this…. committed against the most innocent????
Sufficient is the Evil thereof!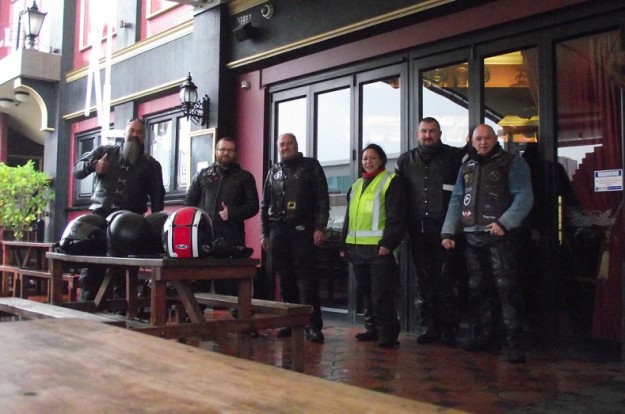 8:30 First meeting point. Cock and Bull Pub. Pukete.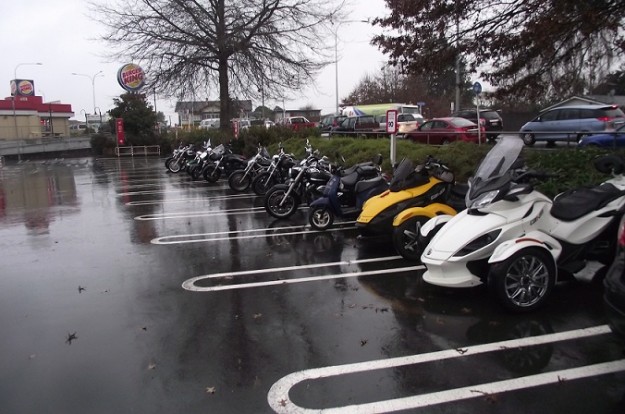 Second meeting point. Hillcrest.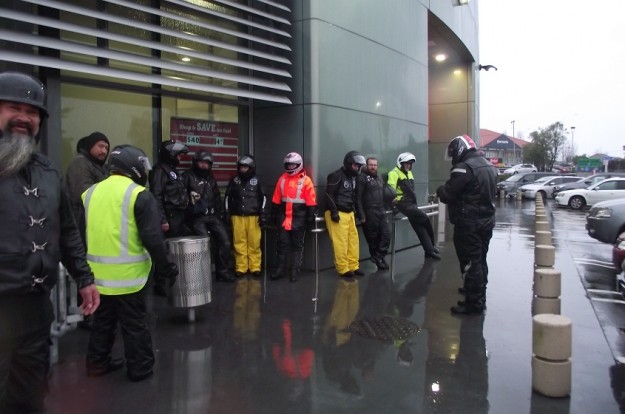 Moko was failed at all points… by everyone… except his sister who did everything she could to raise the alarm… yet nobody rescued Moko.
He has become yet another victim of New Zealand shameful record of Child abuse and murder… and worse still… his murderers were allowed to 'plea bargain for themselves a lesser sentence of Manslaughter instead of Murder!
So The Life value of this precious child, and his suffering and murder, was mitigated… de-valued…. and semi-excused!
*And this travesty… this outrage… is one of the main reasons We Bikers decided to Ride… and join the many other New Zealanders who think that this is just not good enough!
Though The evils and responsibility of Child abuse rest with the abusers… and you cannot blame their upbringing, the government, or any other single cause… Justice and deterrence demands that the Rights of Children receive the full weight of the Law and justice system behind them, so that these Monsters think twice… before committing their crimes… and when they do… they must receive full recompense for their Abominable Crimes against the most vulnerable members of our society.
Many would prefer to see these Vile perpetrators hung from a lamp post… yet without recourse to such Medieval punishments… we should at least expect the courts to deliver a sentence of Life without parole.
As one of the Speakers at the Rally whom herself was the victim of a horrendous sexual attack… "No sentence is adequate/ enough".
News report: Moko's killers to be sentenced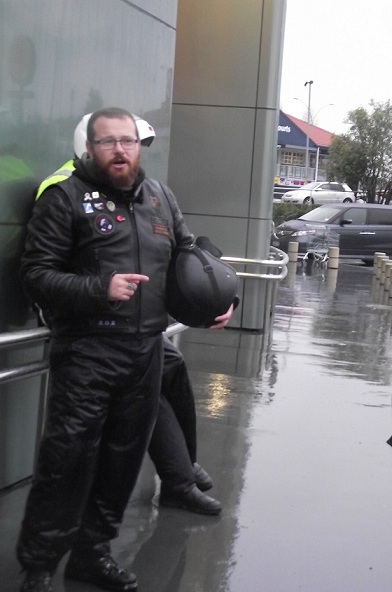 Ride Organiser: Shaun Ewok Bryan.
He did a top job of stepping up to organise this ride for Moko in the Hamilton region.
He organised the Patches.
He also spoke to a TV crew outside the Hamilton courthouse about the Bike Run.
Full credit to him!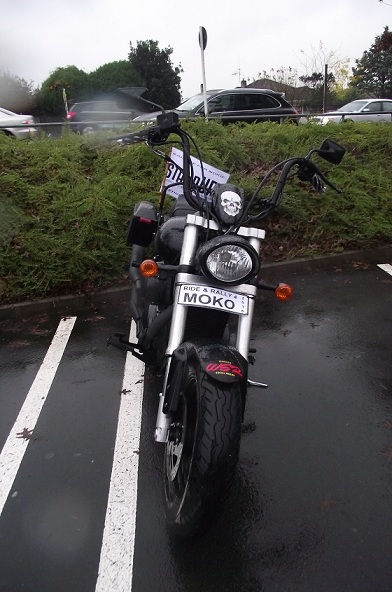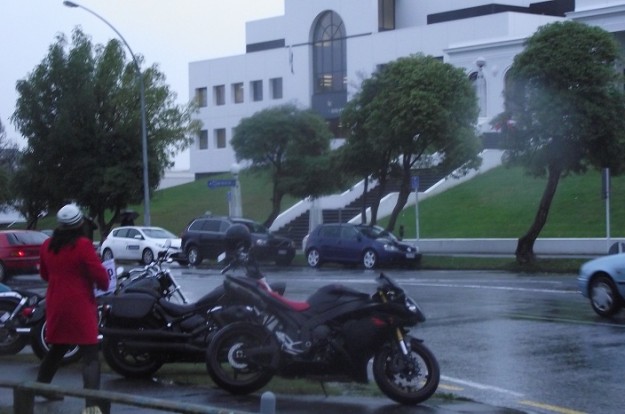 How New Zealand society is to reduce the incidents of such absolutely shocking crimes is not easy to determine… there are so many factors involved, yet if I was to single out some points of importance for me to would be *Personal ethics* and how our society's P.C 'pandering to victimism'… and rejection of what we might call 'Old school Christian values', in favour of Liberal de-valuation of the Traditional Family values… the importance of Fathers, the normalizing of Single parent families, Having children out of wedlock… The Socialist Government encroachments, via welfareism, The evils of the lies of Maori as victims of colonisation… even heavy Taxation, and trade regulations …etc etc… all corrode the soul out of our people… create excuses… make life harder than it needs to be… and esp robs people of an inner moral compass.
Too many people today hold to a nihilistic, amoral, 'It's all about me' mentality.
New Zealand needs to stop running to Nanny State and calling for more Rules and regulations, and instead seek a moral re-awakening in *personal ethics and responsibility*.
No doubt many readers will thumb their noses at this notion… yet I believe it 100%.
This cant happen over night… and it will never happen… unless people take a long hard look at where our society is heading in this 'post-Christian era'.
Do people *hate Christian values more than they desire to fix the monstrous social evils that manifest themselves in such things as Child abuse, Filling Jails, Ever expanding Government Tyranny?
Why is it that *Today's generation* are thought less fit to handle the same liberties older generations took for granted?
We are witnessing an atrophy in personal responsibility, and an over-reliance on Government… yet Government cannot Save the children from abuse.
*Only a revival of Strong personal ethics* can hope to ensure Children are safe around their custodians.
That's my 10 cents worth… my start to the dialogue….I'm open to hearing other opinions… this is a conversation our country needs to have.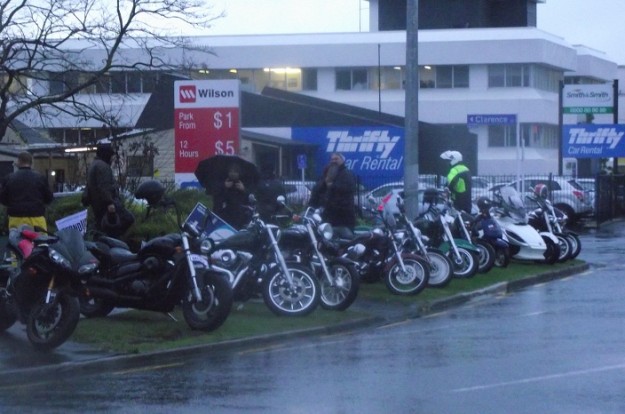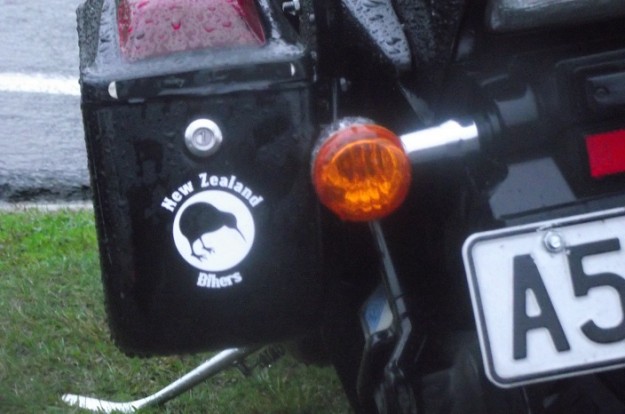 Great show of New Zealand Bikers!
If there is one thing I regret is not taking more time to meet many of you.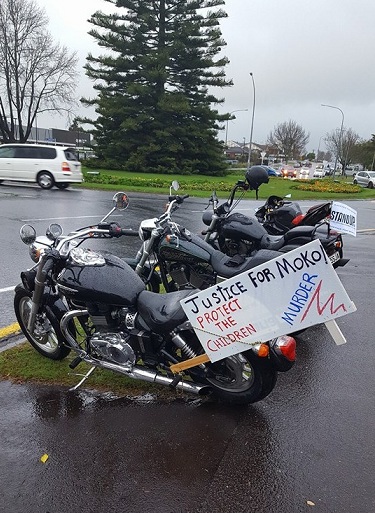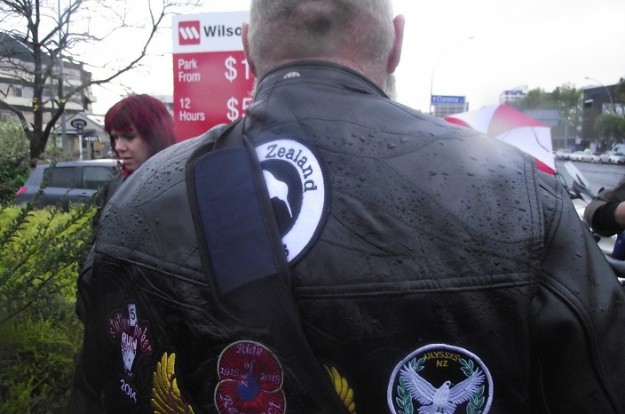 And if I was to add anything else to this list I would add that there are Far too many people in the know… who collude with the abusers… because they seek to hide the shame that they fear will come upon them and their families if they speak up.
*This is a far greater shame!*
The Abuse Needs to be exposed to the light of Day!
The Children whom suffer desperately need someone to speak up for them and rescue them from such horrific treatment… before they too are Crushed… or murdered!
If you know of abuse… yet say nothing… do nothing… then *you are a accomplice* *You are failing the abused children*.
And that is inexcusable.
How can anyone who knows that children are in danger, and suffer… yet does nothing sleep at night????
Child abuse must be reported.
And if there is no time for the Police to arrive… Step between the Child and their abuser!
You may never face a Human Judge for your Inaction… yet like the scum whom Murdered Moko…. one day you will stand before God Almighty and he will judge you for your sins.
*Nobody escapes the justice of Almighty God.*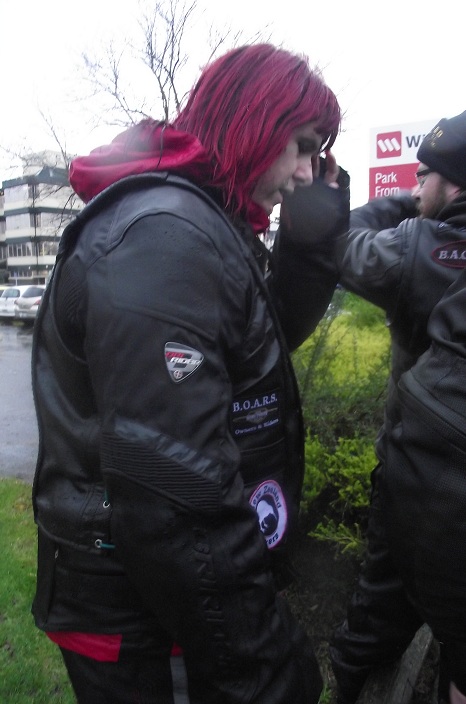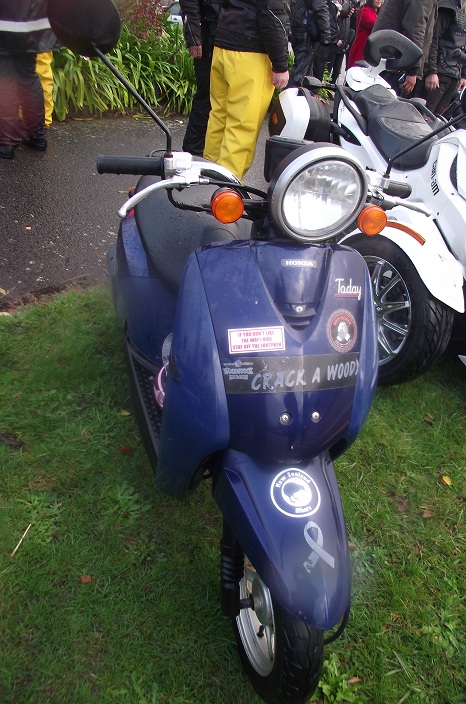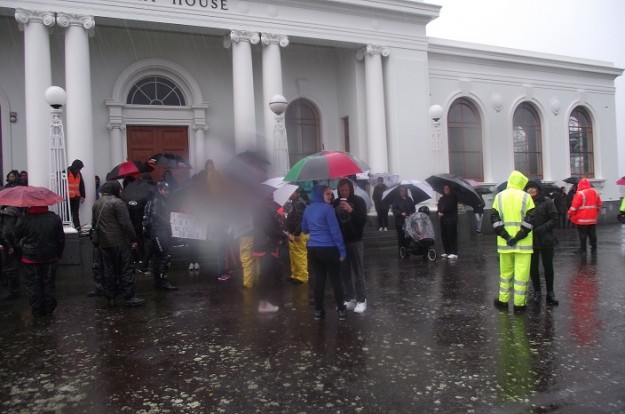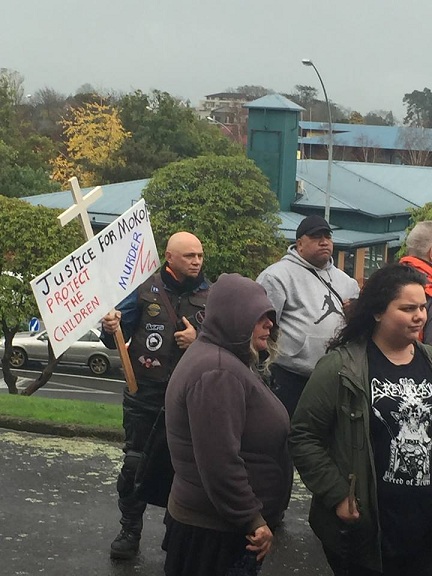 My Sign. Photo from Labour MP Sue Moroney's facebook, who turned up in support for the Vigil, and spoke on the Labour party perspective of the current Legal climate under the National government.
"Dreadful weather today, but these awesome people came out to stand up against violence to children and the unbearable rate of murder in NZ. I spoke at this "Justice for Moko" rally where I told those gathered that we should not accept that our children's rights can be bargained away."
From >here.
****************************************************************
Moko is free now… Safe in the arms of Jesus.
I believe this.
And he will look down on today's rallies that occurred across our nation and will no doubt smile upon everyone who weathered this Wintry day in Tribute to him.
We are all so sorry that we could not save him from these Minions of Satan… yet we can now make sure we do everything we can to reduce the incidence of child abuse in New Zealand.
Let us not forget Moko.
Amen.
Tim Wikiriwhi
New Zealand Biker.
Christian Libertarian.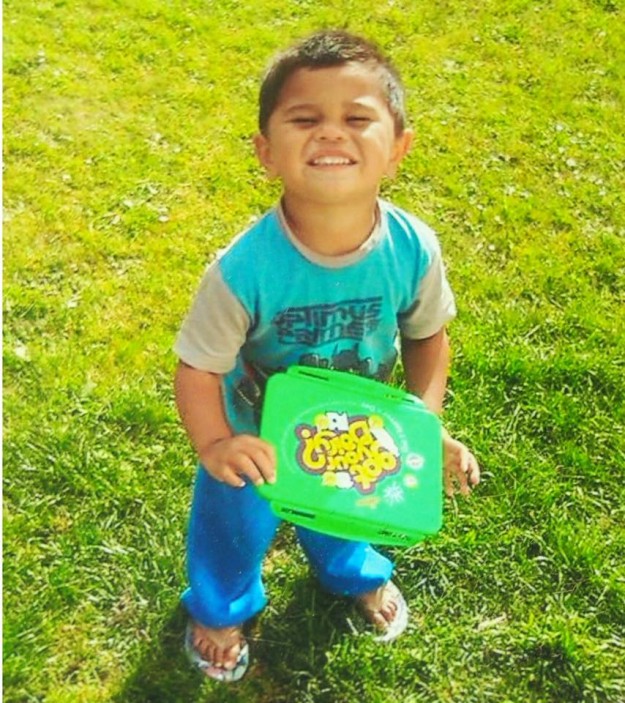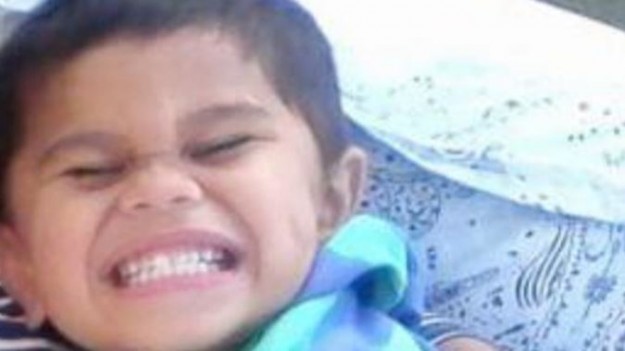 Little Moko.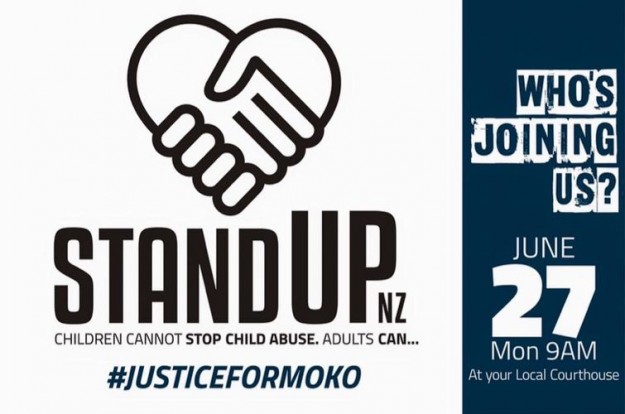 Facebook page Hamilton Justice for Moko.
Sentenced to 17 years… but could be out in 9.
Moko Rangitoheriri's killers David Haerewa and Tania Shailer sentenced to 17 years' prison