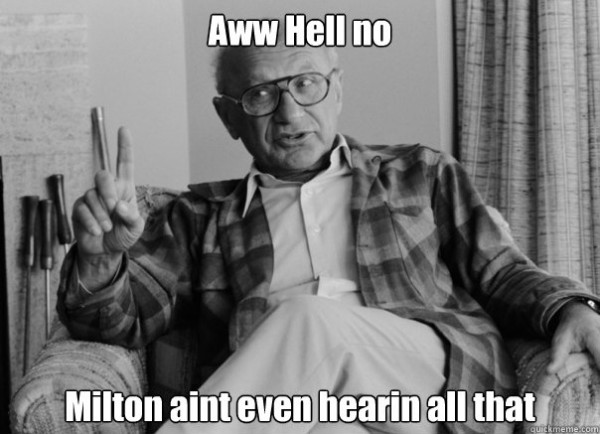 Milton Friedman's response to recent rumours John Key is one of his Proteges
I doubt John Key has read either Rand or Milton Friedman.
That's the not-so subtle Joke behind my earlier blog.
If he has read them… he certainly prefers Power over principle.
Key is a Centrist Social democrat… not a Free-market capitalist.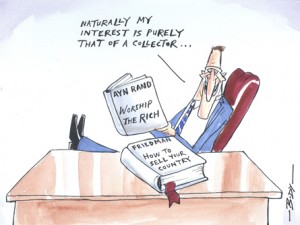 This whole Cartoon is pure Leftist Propaganda.
The Ultimate Joke is that the Leftists have become Centrist Righties too.
What happened was by the end of the 20th century Communism Died… It simply doesn't work, so instead The Communist powers around the world…to the greatest extent became Fascists.
This attempted to inject life/ finances into their tyrannies by opening their boarders to trade, and appealing to corporate greed.
Fascism is 'more efficient' than Communism, yet ultimately is still all about keeping a stranglehold upon the throat of your victims… your subject population… Thus Power lusting… freedom hating…Socialists of the Left can make the switch very easily.
IN New Zealand, China, etc .. the Left became bumbling rightists… yet maintaining 'token' SOEs, muddled with 'token' Competition, muddled with with large Dollops of State and Corporate Whoredom…. Fascism… this mess being 'Lovingly' described as a 'mixed' economy.
The reality is John Key's Nats no more represents 'Libertarian free-market Capitalism' than Cunnliffes Labour Represents leftist socialism.
They Both 'play' their sheepishly appointed dichotomy ….but its all a Façade…. The Façade of 'Choice' for 'Election posturing'.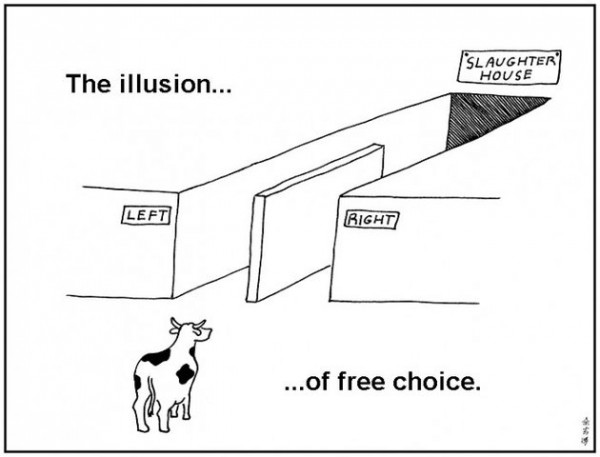 Labour says things like 'Buy Back Kiwi Rail'…. 'No! to charter schools'… as merely Election posturings… irrespective of how detrimental these things will be to our society… that's how they get elected.
When JK says I'm going to sell off State assets…. to pay debts… We will tighten up on Benefits…etc…. which sounds wonderful, yet in reality He still runs the Government fundamentally the same way Labour did.. His 'Revenues from asset sales get swallowed up by the expense of running a Socialist Monolithic State, and his newly 'liberalised' Corporations are basically 60/40 Government/crony Fascist enterprises… which are a modicum more efficient than their earlier Communistic Full SOE…. and you get Fat Cats sitting in Big Chairs Earning 7 figure commerce commission sanctioned salaries under the pretence of 'Parity' with the Private sector…. which itself has been corrupted by Fascist Economics via Business schools whom Love Government…. Private 'partnerships' and have indoctrinated and implemented a 'Top down' Corporate Management structure in which The Business school graduate credential CEO is GOD and takes a Lions share home via salaries and bonuses… and implements a tyrannical totalitarian Micro-management philosophy called 'Scientific Management'…. which relies heavily on Oppression, Sheepish unquestioning obedience to Rules, armies of sycophantic middle management… 'enforcers' of Der Fuhrers will… weeding out 'troublesome' independent renegades who remember times when they could actually do a days work without any meetings or New policies…etc.
Confused?
That's just the way they like it!
Government is too tricky a business …. too much a magic art…for the little people to understand.
Best they leave it to their Benevolent Paternal Betters… got that plebs?
🙂
Notice the parallel philosophies between Fascist Government and Corporatism.
It's a Diabolical love affair and why we do see Industry pushing back Government Tyranny.
The Biggest scam of the looney leftiest is to portray 'Corporatism' as being 'Free-market capitalism'… hence the caricature of John key as being an Ayn Rand/ Friedman 'Libertarian' Free-marketeer.
Satan Laughing spreads his wings!