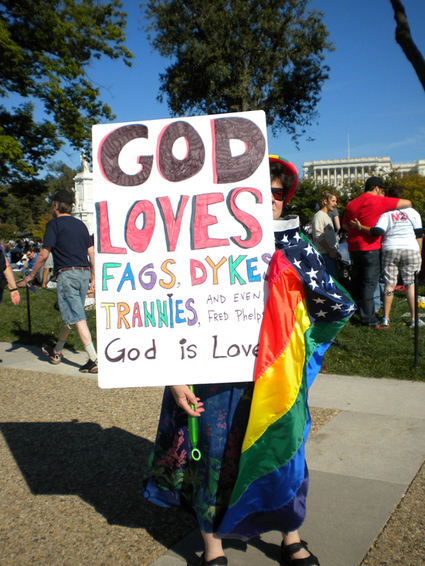 I found reading this incredibly sad.
Fred Phelps, Founder of the 'God Hates Fags' Westboro Baptist Church, is on the 'Edge of Death'

You know Fred Phelps. You loathe Fred Phelps. You despise everything he stands for, like his family members' infamous protests at soldiers' funerals with their awful "God Hates Fags" signs. They've been a symbol for many years of the religion-based animosity against the LGBT community — to the point that they've been labeled a "hate group" and even the most fundamentalist Christian groups denounce his church's activities.

Nate Phelps … is Fred's son and a former member of Westboro Baptist Church. He left the church, and therefore the core of the family, in 1976 when he was 18 years old and has since come out as an atheist, but he still keeps in touch with some of his extended family members, many of whom have also escaped from the church.

Tonight, on Facebook, Nate posted this:

I've learned that my father, Fred Phelps, Sr., pastor of the "God Hates Fags" Westboro Baptist Church, was ex-communicated from the "church" back in August of 2013. He is now on the edge of death at Midland Hospice house in Topeka, Kansas.

I'm not sure how I feel about this. Terribly ironic that his devotion to his god ends this way. Destroyed by the monster he made.

I feel sad for all the hurt he's caused so many. I feel sad for those who will lose the grandfather and father they loved. And I'm bitterly angry that my family is blocking the family members who left from seeing him, and saying their good-byes.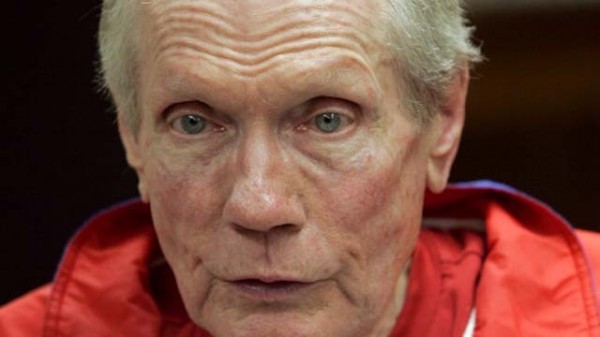 It seems that Fred Phelps badly misconstrued the meaning of
If any man come to me, and hate not his father, and mother, and wife, and children, and brethren, and sisters, yea, and his own life also, he cannot be my disciple. (KJV)
As for Phelps and fags … sure, if you truly believe that people are destined for eternal conscious torment in hell, then arguably it is a loving act to warn them as loudly as you can of their impending doom, but I don't think Fred Phelps really understood or practised the second great commandment. Do you?
Thou shalt love thy neighbour as thyself. (KJV)
I found reading his son Nate's Facebook post incredibly sad but I find reading the reactions that news of Phelps' impending demise has engendered even sadder. Here are some typical reactions I've seen on (or linked to from) Facebook.
Fuckin hate this cunt with a passion !! If he needs help gettin over that edge Holla !!!!

Someone give him a shove, and maybe stab him in the back a few times

sweet i so hope he lingers on in utter pain and has to spend the remainder of his miserable existence being hand bathed slowly by a FLAMING HOMOSEXUAL 3 times a day
To the people who spew such venom, I've simply got to ask. What did Fred Phelps ever do to you? Did he picket your funeral? Did he personally come and pee on your rug? Seventy times seven, peeps. And don't you think you're getting a bit overwrought over something that's essentially a clown act?
Hate breeds hate. Luckily, I don't loathe Fred Phelps and never did, but so many people do. Phelps bred hate and spread more than a little hate worldwide. And I'm guessing he might even have inspired some of heavy metal band Slayer's lyrics. 🙂
No reciprocal hatred from me. Just a wish, in the spirit of yesterday's St. Patrick's day, that Phelps's is "a quick death and an easy one."