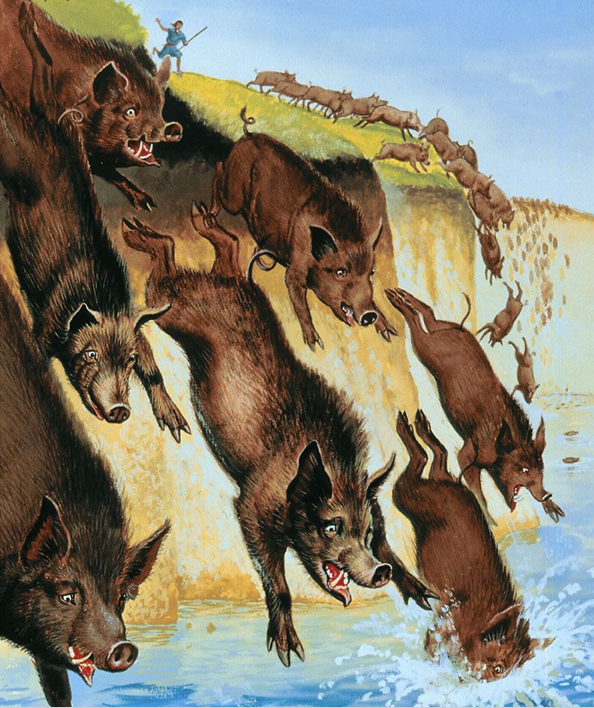 I once suggested that Objectivism is a form of demonic possession.
My unusual suggestion was not well received. One of the usual suspects had this to say.
Richard, your speculation is not a legitimate scientific theory … because demons do not exist, neither do gods, fairies, Santa's-little-helpers or harpies. You've never seen one, heard one, touched one, smelled one nor tasted one, neither can you provide an iota of rationale that there exists such a spirit in the universe.

What was called "demon possession" by religionists is mental illness. You're giving a psychiatric condition a superstitious definition. You call that scientific?
What is called mental illness by psychiatrists is demonic possession. I don't call the American Psychiatric Association's Diagnostic and Statistical Manual of Mental Disorders scientific, and neither do many clinical neuroscientists.
Diagnostic Classification Needs Fundamental Reform

The problem with the DSM-IV, our current shared diagnostic language, is that a large and growing body of evidence demonstrates that it does a poor job of capturing either clinical [or] biological realities. In the clinic, the limitations of the current DSM-IV approach can be illustrated in three salient areas: (1) the problem of comorbidity, (2) the widespread need for "not otherwise specific (NOS)" diagnoses, and (3) the arbitrariness of diagnostic thresholds.

Both in clinical practice and in large epidemiological studies, it is highly likely that any patient who receives a single DSM-IV diagnosis will, in addition, qualify for others, and the patient's diagnostic mixture may shift over time. There is a high frequency of comorbidity—for example, many patients are diagnosed with multiple DSM-IV anxiety disorders and with DSM-IV dysthymia (chronic mild depression), major depression, or both. Many patients with an autism–related diagnosis are also diagnosed with, obsessive-compulsive disorder and attention-deficit/hyperactivity disorder. The frequency with which patients receive multiple diagnoses far outstrips what would be predicted if co-occurrence were happening simply by chance. Researchers who have made careful studies of comorbidity, such as Robert Krueger at the University of Minnesota, have found that co-occurring diagnoses tend to form stable clusters across patient populations, suggesting to some that the DSM system has drawn many unnatural boundaries within broader psychopathological states.
If the concept of mental illness does "a poor job of capturing either clinical [or] biological realities" then how, exactly, is it an advance over the concept of demonic possession?
Two thousand years ago the Gospel authors were well aware of the problem of comorbidity and, in fact, mention it no less than twice.
In the introduction to the Parable of the Sower in the Gospel of Luke we read
Jesus traveled about from one town and village to another, proclaiming the good news of the kingdom of God. The Twelve were with him, and also some women who had been cured of evil spirits and diseases: Mary (called Magdalene) from whom seven demons had come out (NIV)
and in the Gospels of Matthew, Mark and Luke we read (variations of) the story of the Gadarene Swine. It's one of my favourites.
They sailed to the region of the Gerasenes, which is across the lake from Galilee. When Jesus stepped ashore, he was met by a demon-possessed man from the town. For a long time this man had not worn clothes or lived in a house, but had lived in the tombs. When he saw Jesus, he cried out and fell at his feet, shouting at the top of his voice, "What do you want with me, Jesus, Son of the Most High God? I beg you, don't torture me!" For Jesus had commanded the impure spirit to come out of the man. Many times it had seized him, and though he was chained hand and foot and kept under guard, he had broken his chains and had been driven by the demon into solitary places.

Jesus asked him, "What is your name?"

"Legion," he replied, because many demons had gone into him. And they begged Jesus repeatedly not to order them to go into the Abyss. (NIV)

A large herd of pigs was feeding on the nearby hillside. The demons begged Jesus, "Send us among the pigs; allow us to go into them." He gave them permission, and the impure spirits came out and went into the pigs. The herd, about two thousand in number, rushed down the steep bank into the lake and were drowned.

Those tending the pigs ran off and reported this in the town and countryside, and the people went out to see what had happened. When they came to Jesus, they saw the man who had been possessed by the legion of demons, sitting there, dressed and in his right mind; and they were afraid. Those who had seen it told the people what had happened to the demon-possessed man—and told about the pigs as well. Then the people began to plead with Jesus to leave their region.

As Jesus was getting into the boat, the man who had been demon-possessed begged to go with him. Jesus did not let him, but said, "Go home to your own people and tell them how much the Lord has done for you, and how he has had mercy on you." So the man went away and began to tell in the Decapolis how much Jesus had done for him. And all the people were amazed. (NIV)
We all have demons and we often refer to them in animistic terms.
Me, I'm intimately familiar with the Black Dog. Depression's a bitch, for sure. Thank God, she's been sent packing and I haven't seen her in a while. But my mind's still holiday home to a menagerie of monkeys.
Psychiatric counselling and psychiatric drugs can and do help those afflicted by so-called mental illnesses … somewhat. So I'm not knocking psychiatrists and psychiatry … much.
So, what about exorcism? I'll leave that to another psychotic episode.