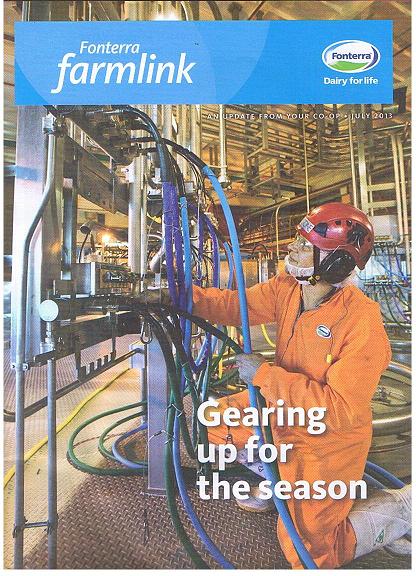 Me @ my Day job Fonterra Terapa.
My submission to The Hamilton City Rates system review.
September 22, 2011 at 7:34pm
On line Submission form – changing Hamilton's Rating System
Thank you for taking the time to make a submission. Rates are a significant matter and it's important we know what you think so Council can consider your views when making a decision.
Submissions must reach Council by Wednesday 12th October at 4pm.
Submissions to Council's proposed Rating review are public. Your submission will be included in Council reports, which are available to the public and media.
1. It is proposed to change our rating system to one which is based on the total value of a property including land and buildings (Capital Value or CV), instead of the current system which is based only on the land value of a property (LV).
Do you support this change? (Please tick one)
Yes
No
Don't know
Tim W Comments: *NO* I find this suggestion repugnant. It is a system which discriminates against those who have invested in property, and also does not promote self responsibility in water usage or waste. A system of direct user pays is far more just or a system under which the cost of the service supplied is spread evenly across all ratepayers as equal users is fairer than this proposed change.
2. The proposal suggests a charge per property for water and rubbish based on the total capital value of a property. This charge would vary from property to property and would mean higher valued properties would pay more for water and rubbish, and lower value properties would pay less.
Do you support this idea? (Please tick one)
Yes
No
Don't know
Tim W Comments: *No* Rates should be based upon services used not property values. The council has no right to treat ratepayers as Cash cows to be milked. They have no right to extort revenues to fund their Grandiose pyramid building and circus schemes. They exist as a servants to take care of the utilities mundane utilities. they are not Ceasers whom can bankroll their absurd delusions of grandeur by extorting funds from an captive population. The extortion and Largesse must stop!
3. There are currently 7 different rates (differentials) for properties. The proposal is to remove 4 of these, which would mean all residential, multi unit, inner city and commercial properties would be rated the same amount per dollar of capital value. Rural properties would still be rated a lesser amount.
Do you support this idea? (Please tick one)
Yes
No
Don't know
Tim W Comments: *Dont Know* I am opposed to any system which is merely a grab for more revenues by the council. I would support any changes which reflected the reality of services supplied to costs charged. I do not believe property values has anything to do with this. I would like to see a system of user pays whereby those whom consciously use less are rewarded with lower rates etc. i would like to see as many services as possible opened up to competition and free enterprise with the corresponding reduction in revenues taken by the council (It don't with to pay the council for services I am getting from the private sector)
4. The proposal recommends central city businesses pay a lower rate so that the change to their rates will bring them into line with other commercial properties. In the past they have been paying a higher rate. This will give a boost to the central city.
Do you support this idea? (Please tick one)
Yes
No
Don't know
Tim W Comments: *YES* Yes I wholeheartedly agree. The free market requires that all business is not crippled by unfair systems of Taxes and rates etc. I strongly appeal for a system of user-pays, thus giving thrifty businesses the opportunity to reduce costs, and gain competitive advantage by more efficient operations.
5. In order to give ratepayers time to adjust, it is suggested to phase in the change to capital value rating over 5 years form 1 July 2012.
Do you support this idea? (Please tick one)
Yes
No
Don't know
Tim W Comments: *Dont Know*
I would like that period to be much shorter if the resolutions prove to be favourable to ratepayers (Eases their rates burden) and much longer if the council resolves upon a more rapacious revenue grab.
6. Are there any further comments or other rating issues you would like considered?
Tim W comments…*YES* Council spending is out of control. It is they whom are to blame for the current crisis, esp those whom have been in council for successive terms. I would like an inquiry into who is responsible for supporting this largesse and for the public to be informed. I also would like to have a charter enacted which sets down strict austerity measures restricting future council spending to only essential infrastructure, debt reduction, and a reform process which systematically reduces the councils spheres of operation and divests it of all interests which are not its proper duty to be involve with.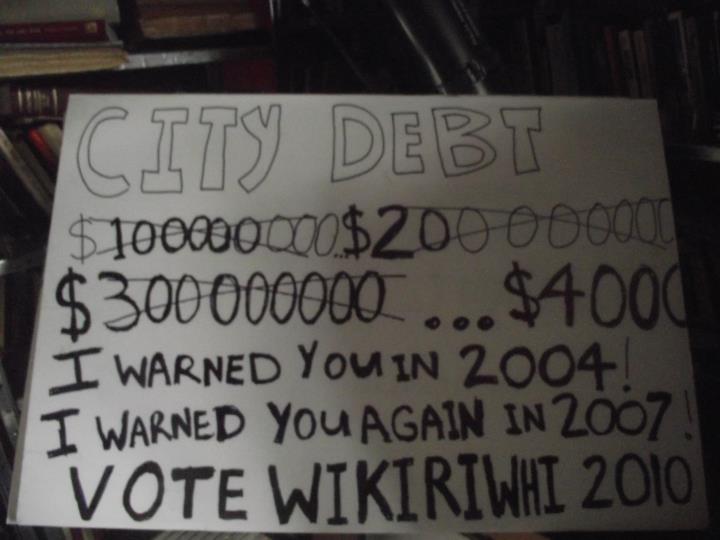 This is a ruff sign I hurriedly produced minutes before a meeting at the last HCC elections. it is a typical zero budget,rush Job, yet it tells a frightening truth about the sky-rocketing city debt under successions of Bad…big spending Mayors and councillors. It shows that I warned Hamilton this would happen in 2001, 2004, 2007, and 2010!