The Binnie Report clearly states that the magazine found next to Robin Bain's body was empty.
(iv) The Curious Placement of the empty 10 shot magazine
268. An important element of the prosecutor's argument against suicide (and a point which found favour with the Court of Appeal) is that an empty 10 shot magazine was found close to Robin Bain's dead right hand on the carpet resting on its narrow, slightly convex edge.
…
271. The Bain argument is that the magazine must have been placed on the floor before Robin's death because in order to make the fatal shot Robin must have switched the empty 10 bullet magazine for the loaded 5 bullet magazine. Each of the 10 bullets was accounted for elsewhere in the house. When the Police seized the gun it was fitted with a smaller 5 shot magazine. It was a bullet from that 5 shot magazine that killed Robin. The Bain team theory is that Robin put down the empty 10 shot magazine on the flooras he fit the smaller 5 shot magazine to the rifle in preparation for suicide.
And this photo shows that there is a bullet in the magazine next to Robin Bain's hand.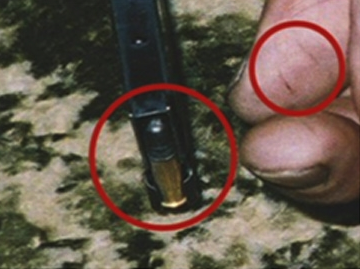 So what's the plausible explanation?
1) That Binnie misrepresented the evidence.
2) That the Police photographer didn't know that the magazine was supposed to be empty.