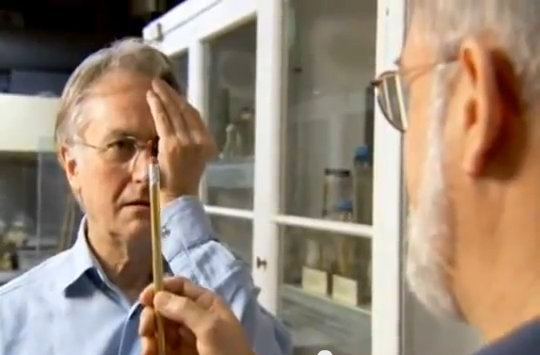 This post continues the discussion on Tim's post The Ludicrous Claims of Evolution! Why not ESP?
In comments on Tim's post, Terry (who is both an Evolutionist and an Objectivist) says
a camera is NOT an eye (nor is an audio recorder an ear, etc). A camera is a piece of equipment used to record images, whereas an eye is an organ of sight. The former mimics the functions of the latter, but apart from that they are worlds apart.

simply because human technology [has] been built so as to mimic certain biological functions does not justify grounds for claiming that the reverse applies and that biology can therefore 'possibly' mimic human inventions via the process of evolution. … Evolution is not a creative process – it is an entirely responsive process, which means that new functionality only develops and is maintained in response to the need to survive.
Terry has just committed Objectivism's "stolen concept" fallacy and violated a fundamental tenet of Evolutionism! Doubleplusungood!
According to Evolutionism, there are no biological functions. The eye, for example, is an organ of sight, but the eye has no purpose. Its function is not to see. It has no function.
According to Evolutionism, there are no biological malfunctions, either. A blind eye, by definition, is not an organ of sight. A blind eye has not malfunctioned, because there is nothing it is supposed to do. An eye has no purpose to be fit for.
If it's the case that the eye was designed for a purpose, as Creationists claim, then we can say that the function of the eye is to see, and that there is something wrong with an eye that does not see. It ain't doing what it's supposed to do, and if the blind lead the blind, both shall fall into the ditch. But Evolutionism is quite explicit that no biological organ is designed for any purpose. As Dawkins says
Biology is the study of complicated things which give the appearance of having been designed for a purpose
and, as Terry himself puts it, "Evolution is not a creative process – it is an entirely responsive process."
Evolution according to Evolutionists is a blind, stochastic process. Any appearance of design, purpose or function is just an appearance. The reason that we have eyes that see is simply because having eyes that see helped our ancestors to survive. But eyes do not, in virtue of their evolutionary history, ever acquire a purpose or a proper function.
All talk of biological functions is pre-Darwinian. Consistent Evolutionists should not talk of biological functions. If they do, they must explain that their use of the word 'function' is just shorthand for facts about an organism's evolutionary history. If they don't, they are guilty of Ayn Rand's stolen concept fallacy.
The "stolen concept" fallacy, first identified by Ayn Rand, is the fallacy of using a concept while denying the validity of its genetic roots, i.e., of an earlier concept(s) on which it logically depends.
The concepts of 'function' and 'purpose' logically depend on the concept of a Creator. They are pre-Darwinian. Evolutionists have no right to use them.