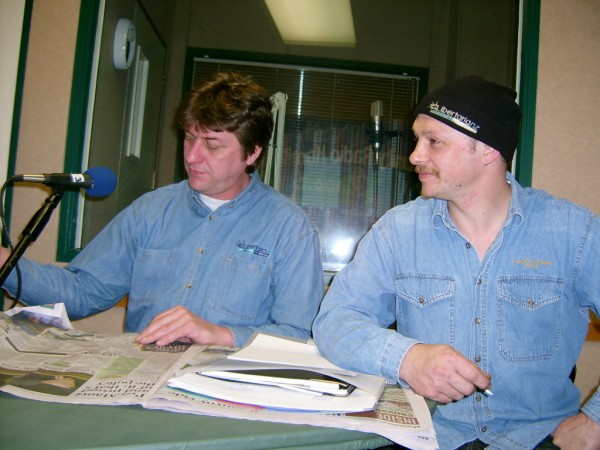 Peter Cresswell and Tim Wikiriwhi on the 'New Freeland Radio Show'
Libertarianz Party ready to embrace new Image:
The Libertarianz Party have put out a Press release which proposes the formation of a moderated Libertarian Party under the leadership of Peter Cresswell.
Now I like Peter. He's a very smart man, and has many great leadership qualities yet I have serious reservations about his ability to lead the New Party.
The press release mentions the fact that the new parties policies would have to be toned down into more palatable bite sized portions…more readily digestible for the Timid masses.
I say that's not good enough!
The problem I have is that it was the dominance of Objectivism which ruined the Libertarianz Party… esp its staunch Anti-religion and Cold/Selfish Egoism.
I say what is needed most is a separation of the Objectivist Church and the Party.
Thus The rhetoric of the Party needs to be modified in general terms to state facts without crossing the line of separation between righteous expositions and un-libertarian personal bents.
Eg When talking about Islamic Terrorism, It is important to frame commentary in such a way that condemns the atrocities without collictivising all Muslims or the Islamic religion as an enemy of freedom.
When discussing issues like abortion, or the teaching of creationism in schools…these subjects must be handled with tact… not tirades about how irrational Religion is…
Is Peter Creswell the Right Man for the Job?
I'm not so sure. Can an Objectivist Zealot change his spots?
Richard McGrath is a far more moderate personality.
IMO the Randoid PC could be the worst possible choice… I will be attending the Conference on Saturday, and will be listening carefully to What PC has to say…
I Hope he supprises me!
This will take as great a personal transformation for PC as is necessary for this New Libertarian Party to shrugg off the Ugliness which spoiled the true Glory of the old Libertrarianz Party.
The New Party must show Kiwi's They have a Heart.
Having said this I dont even hold out much hope for my own participation!
Will a more moderate Party have room for such an uncouth scoundrell as I?
Will they welcome someone who is already critical of the direction they are taking?
I dont know.
This Blog post may be unpopular yet is written to raise this vital issue for discussion.
The New Party must start off on the right footing.
Tim Wikiriwhi
Christian Libertarian.