[Reprised from Pacific Empire, October 2008. Big, big thanks to Luke Howison and Phil Howison. The list is now out-of-date—for example, in 2011 the Ministry of Research, Science and Technology was merged with the Foundation for Research, Science and Technology to form the Ministry of Science and Innovation—but I doubt it is any shorter now than it was in 2008.]
Just how big is Big Government in New Zealand?
Well, if you print off a list of all the government departments, state-owned enterprises, councils and quangos, there are 407 of them.
Hard to visualise, isn't it? Libertarianz is here to help you out.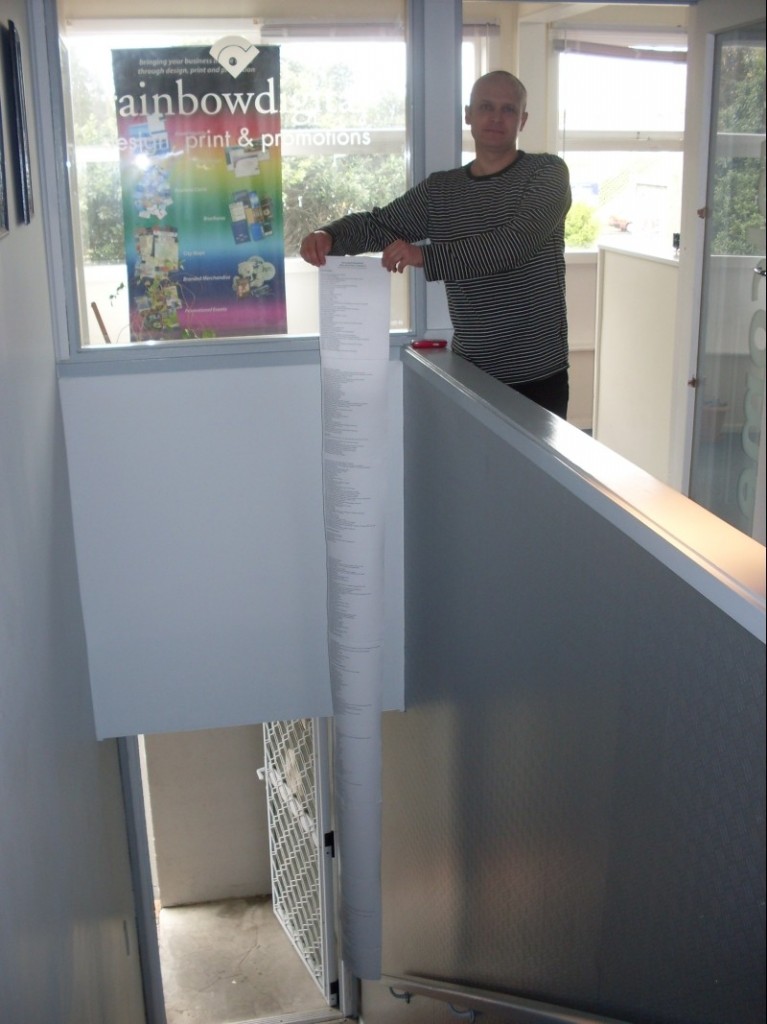 That's nine pages of normal-sized text. It reaches from floor to ceiling, with inches still lying on the carpet.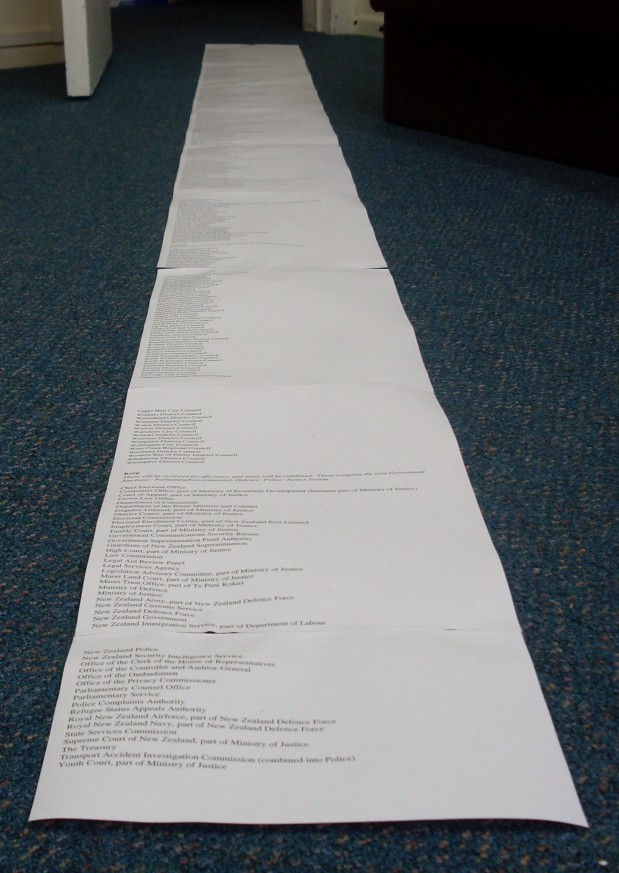 You can find the whole list below, or look at it here.
Government Departments, SEOs, QUANGOs, Councils, etc.
And their fates under a Libertarianz government …
Gone by lunchtime!
Alcohol Advisory Council of New Zealand
Asia New Zealand Foundation
Audit New Zealand, part of Office of the Controller and Auditor-General
Auckland/Waikato Fish and Game Council
Broadcasting Standards Authority
Broadcasting Commission
Building Controls, part of Department of Building and Housing
Central South Island Fish and Game Council
Child, Youth and Family
Commerce Commission
Creative New Zealand
Department of Building and Housing
Department of Conservation
Department of Internal Affairs
Department of Labour
Eastern Fish and Game Council
Electrical Workers Registration Board, part of Ministry of Economic Development
Electricity Commission
Energy Efficiency & Conservation Authority
Energy Safety Service, part of Ministry of Economic Development
Environmental Risk Management Authority
Environment Bay of Plenty
Environment Canterbury
Environment Court, part of Ministry of Justice
Environment Southland
Environment Waikato
Families Commission
Family and Community Services, part of Ministry of Social Development
Fish & Game New Zealand
Gambling Commission
Governor-General (we're a republic now!)
Hawke's Bay Fish and Game Council
Heartland Services, part of Ministry of Social Development
Human Rights Commission
International Services, part of Ministry of Social Development
Investment New Zealand, part of New Zealand Trade and Enterprise
Measurement and Product Safety Service, part of Ministry of Economic Development
Ministry for Culture and Heritage
Ministry of Agriculture and Forestry
Ministry of Consumer Affairs, part of Ministry of Economic Development
Ministry of Economic Development
Ministry of Pacific Island Affairs
Ministry of Social Development
Ministry of Tourism, part of Ministry of Economic Development
Ministry of Women's Affairs
Ministry of Youth Development
Motor Vehicle Traders Register, part of Ministry of Economic Development
National Advisory Council on the Employment of Women, part of
Department of Labour
National Health Committee, part of Ministry of Health
Nelson/Marlborough Fish and Game Council
New Zealand Climate Change Office, part of Ministry for the Environment
New Zealand Export Credit Office, part of The Treasury
New Zealand Game Bird Habitat Trust Board
New Zealand Geographic Board
New Zealand Historic Places Trust
New Zealand Sports Drug Agency
New Zealand Teachers Council
New Zealand Trade and Enterprise
New Zealand Valuers Registration Board
North Canterbury Fish and Game Council
Northland Fish and Game Council
Overseas Investment Commission
Otago Fish and Game Council
Parliamentary Commissioner for the Environment
Personal Property Securities Register, part of Ministry of Economic Development
Plant Variety Rights Office, part of Ministry of Economic Development
Registrar of Unions, part of Department of Labour
Removal Review Authority
Remuneration Authority, part of Department of Labour
Residence Review Board
Southland Fish and Game Council
Sport and Recreation New Zealand
SPEaR, part of Ministry of Social Development
Taranaki Fish and Game Council
Takeovers Panel
Te Mangai Paho
Te Matatini Society Incorporated
Tenancy Services, part of Department of Building and Housing
Toi Te Taiao: The Bioethics Council
Tourism New Zealand
UNESCO Secretariat for the New Zealand National Commission
Wellington Fish and Game Council
West Coast Fish and Game Council
Gone ASAP
Health and education bureaucracy – only needed until their functions are dissolved
Crown Company Monitoring Advisory Unit, part of The Treasury
Crown Health Financing Agency
Employment Institutions Information Centre, part of Department of Labour
Employment Relations Authority, part of Department of Labour
Employment Relations Infoline, part of Department of Labour
Employment Relations Service, part of Department of Labour
Health and Disability Commissioner
Healthline, part of Ministry of Health
Health Research Council of New Zealand
Health Sponsorship Council
Immunisation Advisory Centre, part of Ministry of Health
Insolvency and Trustee Service, part of Ministry of Economic Development
Intellectual Property Office of New Zealand, part of Ministry of
Economic Development
Inland Revenue Department
Labour Inspectorate, part of Department of Labour
Maternity Services, part of Ministry of Health
Medsafe, part of Ministry of Health
Mental Health Commission
Ministry for the Environment
Ministry of Education
Ministry of Foreign Affairs and Trade
Ministry of Health
National Screening Unit, part of Ministry of Health
New Zealand Artificial Limb Board
New Zealand Blood Service
New Zealand Debt Management Office, part of The Treasury
New Zealand Food Safety Authority
New Zealand Health Information Service, part of Ministry of Health
Occupational Safety and Health Service, part of Department of Labour
Office for Disability Issues, part of Ministry of Social Development
Office for Senior Citizens, part of Ministry of Social Development
Office for the Community and Voluntary Sector, part of Ministry of
Social Development
Office of Ethnic Affairs, part of Department of Internal Affairs
Office of Film and Literature Classification
Office of Human Rights Proceedings, part of Human Rights Commission
Office of the Children's Commissioner
Office of Treaty Settlements, part of Ministry of Justice
Retirement Commission, Whiriwhiria!
Securities Commission
Standards New Zealand
State Housing Appeals Authority, part of Department of Building and Housing
TeachNZ, part of Ministry of Education
Te Puni Kokiri
Tertiary Education Commission
Veterans' Affairs New Zealand
Waitangi Tribunal, part of Ministry of Justice
War Pension Services, part of Ministry of Social Development
Work and Income, part of Ministry of Social Development
New Zealand Agency for International Development, part of Ministry of
Foreign Affairs and Trade
Ngai Tahu Ancillary Claims Trust
Te Taura Whiri i te Reo Maori (Maori Language Commission)
Treaty of Waitangi Fisheries Commission
Sell; profits into general fund
Accident Compensation Corporation
Accounting Standards Review Board
AgResearch Limited
Agricultural and Marketing Research and Development Trust
AgriQuality Limited
Antarctica New Zealand
Airways Corporation of New Zealand Limited
Animal Control Products Limited
Asure New Zealand Limited
Aviation Security Service, part of Civil Aviation Authority of New Zealand
BIZ Information Centres, part of New Zealand Trade and Enterprise
Career Services rapuara
Civil Aviation Authority of New Zealand
Crown Minerals, part of Ministry of Economic Development
Dispute Resolution Services Ltd , part of Accident Compensation Corporation
Earthquake Commission
Education Review Office
Electricity Corporation of New Zealand Limited
Food Standards Australia New Zealand
Foundation for Research Science & Technology
Genesis Power Limited
HortResearch
Housing New Zealand Corporation (assets on a building-by-building basis sold)
Industrial Research Limited
Industry Capability Network, part of New Zealand Trade and Enterprise
Institute of Environmental Science and Research Limited
Institute of Geological and Nuclear Sciences Limited
International Accreditation New Zealand, part of Testing Laboratory
Registration Council
Landcare Research New Zealand Limited
Landcorp Farming Limited
Land Information New Zealand
Land Transport New Zealand
Leadership Development Centre (?)
Learning Media Limited
Mediation Service, part of Department of Labour
Meridian Energy Limited
Meteorological Service of New Zealand Limited
Mighty River Power Limited
Ministry of Fisheries
Ministry of Research, Science & Technology
Ministry of Transport
National Institute of Water and Atmospheric Research Limited
National Radiation Laboratory, part of Ministry of Health
New Zealand Institute for Crop and Food Research Limited
New Zealand Lotteries Commission
New Zealand Lottery Grants Board
New Zealand Post Limited
New Zealand Qualifications Authority
New Zealand Railways Corporation
New Zealand Symphony Orchestra
New Zealand Venture Investment Fund Limited
New Zealand Film Commission
Pacific Business Trust
Pharmaceutical Management Agency Limited
Public Sector Training Organisation
Public Trust
Qualmark New Zealand Limited
Queen Elizabeth II National Trust
Quotable Value Limited
Radio New Zealand Limited
Road Safety TrustRadio Spectrum Management, part of Ministry of
Economic Development (sell the spectrum)
Reserve Bank of New Zealand
Research, Information and Capability Group, part of Ministry of
Economic Development
Royal Society of New Zealand
Scion (scientific research)
Solid Energy New Zealand Limited
Statistics New Zealand
StudyLink, part of Ministry of Social Development
Television New Zealand Limited
Testing Laboratory Registration Council
Transit New Zealand
Transmission Holdings Limited
Transpower New Zealand Limited
Distribute to community through shares
Alexander Turnbull Library (part of National Library of New Zealand)
Aoraki Polytechnic
Archives New Zealand
Auckland District Health Board
Auckland University of Technology
Bay of Plenty District Health Board
Bay of Plenty Polytechnic
Canterbury District Health Board
Capital & Coast District Health Board
Christchurch College of Education
Christchurch Polytechnic Institute of Technology
Counties Manukau District Health Board
Dunedin College of Education
Eastern Institute of Technology
Hawke's Bay District Health Board
Hutt Valley District Health Board
Lakes District Health Board
Lincoln University
Manukau Institute of Technology
Maori Television
Massey University
Maritime Safety Authority of New Zealand
MidCentral District Health Board
Ministry of Civil Defence and Emergency Management, part of Department
of Internal Affairs
Museum of New Zealand Te Papa Tongarewa
National Library of New Zealand – Te Puna Matauranga o Aotearoa
National Rural Fire Authority, part of New Zealand Fire Service Commission
Nelson Marlborough District Health Board
Nelson Marlborough Institute of Technology
New Zealand Fire Service, part of New Zealand Fire Service Commission
New Zealand Fire Service Commission
New Zealand Vice-Chancellors' Committee
Northland District Health Board
Northland Polytechnic
Open Polytechnic of New Zealand
Otago District Health Board
Otago Polytechnic
School Services, part of National Library of New Zealand – Te Puna
Matauranga o Aotearoa
South Canterbury District Health Board
Southern Institute of Technology
Southland District Health Board
Tai Poutini Polytechnic
Tairawhiti District Health
Tairawhiti Polytechnic
Taranaki District Health Board
Telford Rural Polytechnic
Te Wananga o Aotearoa
Te Wananga-o-Raukawa
Te Whare Wananga o Awanuiarangi
The Correspondence School
Timberlands West Coast Limited
Unitec Institute of Technology
Universal College of Learning
University of Auckland
University of Canterbury
University of Otago
University of Waikato
Victoria University of Wellington
Waiariki Institute of Technology
Waikato District Health Board
Waikato Institute of Technology
Wairarapa District Health Board
Waitemata District Health Board
Wanganui UCOL, part of Universal College of Learning
Wellington Institute of Technology
Western Institute of Technology at Taranaki
Whanganui District Health Board
Whitireia Community Polytechnic
West Coast District Health Board
Councils
Dissolved and assets sold, with land records etc. transferred to public trusts
Ashburton District Council
Auckland City Council
Auckland Regional Council
Banks Peninsula District Council
Buller District Council
Carterton District Council
Central Hawke's Bay District Council
Central Otago District Council
Chatham Islands Council
Christchurch City Council
Clutha District Council
Dunedin City Council
Far North District Council
Franklin District Council
Gisborne District Council
Gore District Council
Greater Wellington – The Regional Council
Grey District Council
Hamilton City Council
Hastings District Council
Hauraki District Council
Hawke's Bay Regional Council
Horizons Regional Council
Horowhenua District Council
Hurunui District Council
Hutt City Council
Invercargill City Council
Kaikoura District Council
Kaipara District Council
Kapiti Coast District Council
Kawerau District Council
Mackenzie District Council
Manawatu District Council
Manukau City Council
Marlborough District Council
Masterton District Council
Matamata-Piako District Council
Napier City Council
Nelson City Council
New Plymouth District Council
Northland Regional Council
North Shore City Council
Opotiki District Council
Otago Regional Council
Otorohanga District Council
Palmerston North City Council
Papakura District Council
Porirua City Council
Queenstown-Lakes District Council
Rangitikei District Council
Rodney District Council
Rotorua District Council
Ruapehu District Council
Selwyn District Council
Southland District Council
South Taranaki District Council
South Waikato District Council
South Wairarapa District Council
Stratford District Council
Taranaki Regional Council
Tararua District Council
Tasman District Council
Taupo District Council
Tauranga City Council
Thames-Coromandel District Council
Timaru District Council
Upper Hutt City Council
Waikato District Council
Waimakariri District Council
Waimate District Council
Waipa District Council
Wairoa District Council
Waitakere City Council
Waitaki District Council
Waitomo District Council
Wanganui District Council
Wellington City Council
West Coast Regional Council
Westland District Council
Western Bay of Plenty District Council
Whakatane District Council
Whangarei District Council
Keep
These will be reviewed for efficiency, and many will be combined.
These comprise the core Government functions:
Parliament/Governmental; Defence; Police; Justice System
Chief Electoral Office
Companies Office, part of Ministry of Economic Development (becomes
part of Ministry of Justice)
Court of Appeal, part of Ministry of Justice
Crown Law Office
Department of Corrections
Department of the Prime Minister and Cabinet
Disputes Tribunal, part of Ministry of Justice
District Courts, part of Ministry of Justice
Electoral Commission
Electoral Enrolment Centre, part of New Zealand Post Limited
Employment Court, part of Ministry of Justice
Family Court, part of Ministry of Justice
Government Communications Security Bureau
Government Superannuation Fund Authority
Guardians of New Zealand Superannuation
High Court, part of Ministry of Justice
Law Commission
Legal Aid Review Panel
Legal Services Agency
Legislation Advisory Committee, part of Ministry of Justice
Maori Land Court, part of Ministry of Justice
Maori Trust Office, part of Te Puni Kokiri
Ministry of Defence
Ministry of Justice
New Zealand Army, part of New Zealand Defence Force
New Zealand Customs Service
New Zealand Defence Force
New Zealand Government
New Zealand Immigration Service, part of Department of Labour
New Zealand Parole Board
New Zealand Police
New Zealand Security Intelligence Service
Office of the Clerk of the House of Representatives
Office of the Controller and Auditor-General
Office of the Ombudsmen
Office of the Privacy Commissioner
Parliamentary Counsel Office
Parliamentary Service
Police Complaints Authority
Refugee Status Appeals Authority
Royal New Zealand Airforce, part of New Zealand Defence Force
Royal New Zealand Navy, part of New Zealand Defence Force
State Services Commission
Supreme Court of New Zealand, part of Ministry of Justice
The Treasury
Transport Accident Investigation Commission (combined into Police)
Youth Court, part of Ministry of Justice
[Originally cross-posted to SOLO.]